Spectacular waterside views are what city traveling is all about, and in Manila, there are several operators ready to make it happen for you. Because daytime cruising might be just a little too uncomfortable because of the blazing sun, cruises in Manila Bay tend to set off from about 4:00 p.m., offering wonderful sunset, dinner, and nighttime cruises.

Varying in cruise time from 1-3 hours, the boats slowly tread their way through the most delightful sunset at Manila Bay, then toward the harried lights of Roxas Boulevard and onto the outstanding view of one of the city's most lovely ornaments, the Cultural Center of the Philippines (CPP).

In the meantime, the lower decks of your dining yacht will have sprung to life with both traditional and modern live music served up with terrific local delicacies. If one desires, drinks are also available on board, although they are commonly not included in most packages.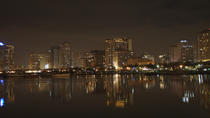 18 Reviews
Savor the flavors of Manila on this dinner cruise along beautiful Manila Bay. Relax on a sunset, mid-evening or night cruise and enjoy friendly service from ... Read more
Location: Manila, Philippines
Duration: 3 hours (approx.)