There is nothing quite as invigorating as trekking along an active volcano and the Taal Volcano in Luzon, Philippines is no exception. Surrounded by the shores of Taal, the volcano itself is located on a small island, making it one of the most picturesque natural destinations around.

The island has four craters, including two called the 'twin craters' and so there are also a few trails popular among volcano goers, the most popular of which is the Spanish Trail. Perfect for trekking on foot or by horse, the Spanish Trail gets you a fantastic view from the rim of what is called the Crater Lake, as well as the best possible view from the top.

You can also choose to take the less populated trail called Kenney Trail, a man made trail that goes a little easier on the skin since it is cast beneath the shade of the trees. You are also left a little more to your own devices as there are fewer locals and other trekkers, but in exchange for these perks you get a lesser view from the top.
Nevertheless, it is a more solitary and peaceful trip.

Located just 31 miles (50 kilometers) from Manila, you will need to cross a sulfuric lake by boat in order to reach volcano site, a ride that depending on where you set sail, may only take about 30 minutes.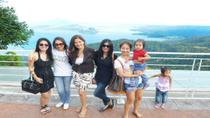 26 Reviews
Travel from Manila to awe-inspiring Tagaytay Ridge for a panoramic view of Taal Lake and Volcano from the Palace in the Sky. Visit San Jose Church, home to the ... Read more
Location: Manila, Philippines
Duration: 8 hours (approx.)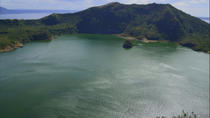 51 Reviews
Enjoy two amazing Manila experiences for the price of one with this Manila Super Saver. With your knowledgeable local guide, tour Tagaytay, where you'll enjoy ... Read more
Location: Manila, Philippines
Duration: 8 hours (approx.)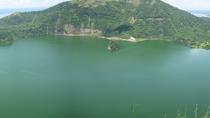 1 Review
A soft adventure tour to Taal Volcano, the country's smallest active volcano, has bewildered trek junkies and hiking enthusiasts with its astonishing beauty. ... Read more
Location: Manila, Philippines
Duration: 1 day (approx.)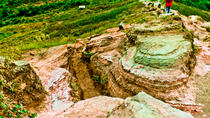 1 Review
Join this shared day trip from Manila and explore Taal Volcano together with other travelers around the world. The tour lead by the professional English ... Read more
Location: Manila, Philippines
Duration: 8 hours (approx.)