El Badi Palace (Palais El Badi)
The El Badi Palace is an open-air account of the successive dynasties which have held sway in Marrakech. It was built in the late 16th century by King Ahmad al-Mansur of the Saadi dynasty, who spared no expense, filling his home with the best ...
Tours & Tickets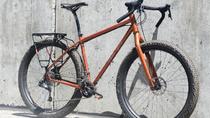 2 Reviews
Discover Marrakech by bike: a quicker, funnier and more efficient way of discovering the hideouts of the Red City. You will see all relevant places with a ... Read more
Location: Marrakech, Morocco
Duration: 1 day (approx.)
Discover the medina on a guided city walk, learning about the Moroccan culture and historical sites of interest from a knowledgeable local guide.
Location: Marrakesh, Morocco
Duration: 4 hours (approx.)
Aimless wandering around the Medina and Souqs is an amazing way to see Marrakech, but so is taking a half day official guided tour, in the language of your ... Read more
Location: Marrakesh, Morocco
Duration: 2 hours 30 minutes (approx.)