Essaouira
Earning its place in the guidebooks back in the 1960s, when iconic musicians like Jimi Hendrix, Mick Jagger, Frank Zappa and Cat Stevens descended on its shores, the tranquil beach town of Essaouira might be over its hippie heyday, but its laid-back vibe still entices a steady stream of backpackers and curious tourists. 
Perched on the Atlantic coast between Casablanca and Agadir, the fishing port and beach town retains a distinctly European feel, with its bright blue and white architecture, bustling harbor and winding souks set within its still intact 18th century sea walls. Today, Essaouira's high coastal winds make it a popular haunt for surfers, windsurfers and kitesurfers, but the town is also a lively arts hub, lined with art galleries, craft stalls, live music cafés and waterfront bars and restaurants. Time your visit for one of the town's many annual festivals to see Essaouira at its most atmospheric - the Gnaoua World Music festival, held each June, is the highlight of the entertainment calendar.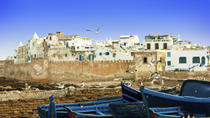 1 Review
Embark on a scenic private day trip from Marrakech to the quaint fishing town of Essaouira. Your personal driver will pick you up from your Marrakech hotel ... Read more
Location: Marrakech, Morocco
Duration: 10 hours (approx.)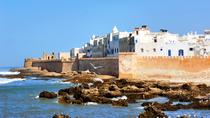 1 Review
Take a private day tour to Essaouira , one of the most attractive and charming cities on Morocco's Atlantic coast.
Location: Marrakech, Morocco
Duration: 1 day (approx.)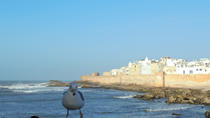 1 Review
Visit the famous port and beach of Essaouira form Marrakech. It is a coastal, relaxed and friendly city where time seems to stand still.
Location: Marrakech, Morocco
Duration: 1 day (approx.)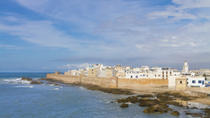 Escape the city and discover the flavors of the Moroccan coast on this gourmet day trip to Essaouira from Marrakech. Visit a local argan oil cooperative with ... Read more
Location: Marrakech, Morocco
Duration: 10 hours 30 minutes (approx.)
Leave Marrakech's hustle and bustle and enjoy a day away of Marrakech. Feel the charm of Morocco's coast, visit Argan tree fields, see Essaouira's fish Market, ... Read more
Location: Marrakesh, Morocco
Duration: 10 hours (approx.)
Essaouira has been called "Mogador", the well drawn. Marquetry of thuja, lemon tree and cedar keep throughout the years their precious wooden scent and ... Read more
Location: Agadir, Morocco
Duration: 1 day (approx.)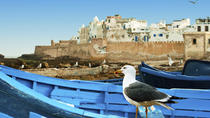 See the sights on a full-day excursion to Essaouira, an old Portuguese town, also known as Mogador. With a guide, you'll explore the narrow streets of the ... Read more
Location: Marrakech, Morocco
Duration: 11 hours (approx.)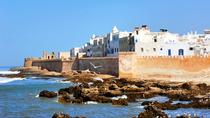 6 Reviews
Embark on an unique journey from Marrakech to the seaside city of Essaouira on this guided full-day tour. Explore the sights and sounds of this vibrant city, ... Read more
Location: Marrakech, Morocco
Duration: 1 day (approx.)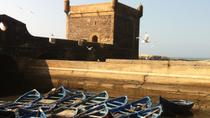 70 Reviews
Visit the beach and famous port of Essaouira on a day trip from Marrakech. You'll take a guided tour of the port and have the opportunity to discover the ... Read more
Location: Marrakech, Morocco
Duration: 11 hours 30 minutes (approx.)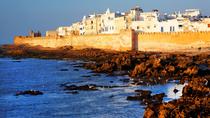 2 Reviews
Morning departure from Marrakech in a small-group tour you will be personally transported through the vast and breath-taking Moroccan landscape to Essaouira. ... Read more
Location: Marrakesh, Morocco
Duration: 10 hours (approx.)