Marseille RECOMMENDATIONS See all
Bouillabaisse, Pastis & Pétanque
By Viator, July 2014
No reviews, be the first!
What better than Boullabaisse, Pastis and Pétanque to define Marseilles – this quintessential trio is a must-try during your visit!

Start your afternoon by playing Pétanque, a form of bocce very popular in France that will seduce young and old alike – all you need is a set of boules with a cochonnet (literally "piglet"), and a playground or a park preferably shaded by trees to protect you from the blazing afternoon sun. Enjoy this easy-going game by simply watching, or step in and join the locals who are sure to welcome you! Either way, you'll have a fun, local experience.

The "hard" work of playing Pétanque is usually followed by a well-deserved and refreshing glass (or two!) of Pastis. Though not as famous as Champagne or Bordeaux, anise-flavored Pastis is an aperitif that symbolizes the true South of France. Give it a try, and it will be your summer's drink forever.

The conclusion of your day shall be a Bouillabaisse – Marseille's iconic fish stew. It is best-tasted directly on the Marseille Port, where you can relax and savor the delicious seafood soup, carefully flavored with various herbs and spices, while admiring the Mediterranean Sea and its display of luxury boats.

Feel free to repeat the next day!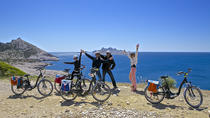 20 Reviews
Spend a day riding along the breathtaking Mediterranean coast on this electric bike tour from Marseille. Pedal with ease to the city's southern outskirts and ... Read more
Location: Marseille, France
Duration: 7 hours (approx.)