Marseille RECOMMENDATIONS See all
Van Gogh's Footsteps in Provence
By Viator, June 2014
No reviews, be the first!
As famous for the prolific talent that saw him produce more than 2,000 works in his short 10-year career as for the mental illness that led him to cut off part of his own ear, Van Gogh surely ranks among history's greatest and most enigmatic artists. Born in the Netherlands and having spent time in Paris and London before moving to the Provencal town of Arles in 1888, Van Gogh was drawn to Southern France for its warm light, and the time spent there marked one of his most creative periods.
Today, following in Van Gogh's footsteps in Provence is a popular pastime for art lovers, offering the chance to discover the man behind the paintings and enjoy the real life scenery that inspired some of his most iconic works. The top destination on art lovers' itineraries is Arles, where Van Gogh lived for two years and produced memorable works like La Maison Jaune, Le Café De Nuit and Le Jardin de l'Hotel Dieu. The famous "Yellow House" where the artist resided was sadly destroyed during the war years, but fans can still visit many of the real life locations immortalized in his works, along with the hospital where he was treated after cutting off his ear and the new Fondation Vincent Van Gogh gallery, dedicated to the local hero.
The best way to take in the highlights of Van Gogh's Provence is on a private or small group tour, enjoying the countryside through the eyes of the visionary artist, with the aid of an expert guide. Not only will you get to learn all about Van Gogh's tumultuous life in Provence, but you'll visit dozens of sites captured on the artist's canvas, as well as Arles, the cliff-top village of Les Baux de Provence and the market town of St Rémy de Provence, where Van Gogh spent time in psychiatric care at the Monastery de Mausole and painted classic works like Starry Night and Self-Portrait.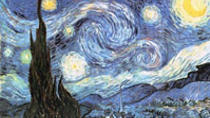 31 Reviews
Follow in the footsteps of a Post-Impressionist master on this 4- to 5-hour Van Gogh in Provence small-group day trip. Follow in Van Gogh's footsteps through ... Read more
Location: Avignon, France
Duration: 4-5 hours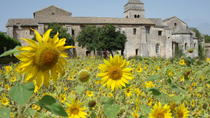 6 Reviews
Walk in the footsteps of Vincent Van Gogh in Arles and Saint-Rémy-de-Provence on this private day trip from Avignon. See where the famous artist once ... Read more
Location: Avignon, France
Duration: 4 hours (approx.)