Situated on Chesapeake Bay, Maryland is one of America's most fascinating states. While its official nickname is the Old Line State, the contemporary moniker of America in Miniature perhaps suits it better. In Maryland, you will find beaches and mountains, as well as a melting pot of modern Americana mixed with a traditional East Coast feel.

Day 1: Annapolis

If you're visiting Maryland over a few days, spend your first day in Annapolis. No matter what, take a tour of the United States Naval Academy; in particular, be sure to visit the crypt of John Paul Jones, as its marble dolphins are a sight to behold. Annapolis is known as "America's Sailing Capital," and you can book tours on a various sailing vessels for a relaxing cruise around Chesapeake Bay. Moreover, this quaint town is home to a number of boutiques, antique shops and seafood restaurants; you'll be remiss if you skip out on a crab lunch or dinner in Maryland, and Annapolis boast some of the state's best. In order to hit the city's historical highlights, book an Annapolis City Segway Safari Tour These guided, small-group tours put in control of the two-wheeled Segway personal transport vehicles, taking you past historic locations including the William Paca House, St John's College and the Maryland State House. You will then travel through to West Street, past the Banneker Douglas Museum, the Court House and City Hall over to the St Mary's Church. The tour concludes with a ride around City Dock and Market Place.

Day 2: Baltimore

Spend the next two days exploring Baltimore. While the city has a reputation for gritty urban realities, in recent years its leaders have made a concerted effort to make it more attractive and hospitable, and the results have paid off. Here you will find a mix of America's storied past and eclectic present. Segway tours are a recent addition to the city's tourist attractions, taking visitors through the Fell's Point historic district, the waterfront and historic Patterson Park. You'll get captivating narration regarding the city's place in the late 18th and early 19th centuries, torn between loyalties to the American colonists and their British overlords as well as the conflicts between the North and the South during the Civil War. Following your Segway tour, visit the Baltimore Museum of Art, the Basilica (the first metropolitan cathedral in America) or spend some time watching the wildlife at Druid Hill Park.

Day 3: More Baltimore

On your last day, take a trip to the grave of Edgar Allen Poe, visit the historic Cross Street Market in Federal Hill Park or head to the Battle Creek Swamp Sanctuary and see what the city was like in the days when mammoths walked the Earth.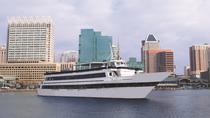 19 Reviews
Celebrate your night in Baltimore with dinner, dancing and sightseeing aboard a three-hour luxury cruise on the Inner Harbor. Glimpse top Baltimore attractions ... Read more
Location: Baltimore, Maryland
Duration: 3 hours (approx.)