Romantic Maui
By Viator, October 2013
From the 10,000 ft. summit of Haleakala volcano to the palm-fringed shores of Hamoa Bay, there is a certain romance to the island of Maui which is virtually impossible to place. While all of Hawaii has a romantic allure, the island of Maui exudes a gentle elegance where love and romance and a sense of companionship waft together on the afternoon breeze. It's literally something which can be felt in the air, although the source of the romance is harder to find.

Perhaps it's the way that the setting sun ignites the sky in an orchestra of color. Maybe it's the way that the slack key guitar sings a gentle melody from an oceanfront luau, or the feeling of swimming in a private waterfall hidden deep in the shadows of a bamboo forest.

Watch the sunset from the summit of Haleakala and stay to gaze at the stars. Take a stroll down the beach in the morning and leave your footprints in the moist golden sand. Get a couple's massage in a beachfront cabana, or enjoy an evening of Pacific Rim cuisine at a restaurant featuring the state's best chefs. Watch the sun lift out of the water from a private corner of a black sand beach, or literally sail away into the sunset aboard the decks of a sunset cruse.

However you spend your getaway in Maui, you're sure to encounter a sense of aloha which is embedded into the fabric of the island. It's this sense of love which continues to make Maui a favorite of romantic travelers, and you'll find just as much beauty on your 50th anniversary as you did years ago on your island honeymoon. The romance of Maui is timeless and enduring, and it's an intangible asset to a tropical island that is often voted as the best in the world.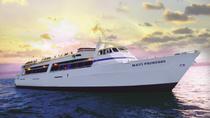 123 Reviews
Snuggle up with your partner and soak up the best views of the West Maui Mountains on a romantic Maui dinner cruise. After watching the stars come out over ... Read more
Location: Maui, Hawaii
Duration: 2 hours 30 minutes (approx.)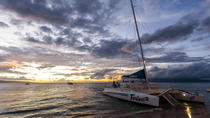 21 Reviews
For the perfect end to your day on Maui, take a sunset Maui dinner cruise aboard the "Teralani 2". As the sun sets, you'll see some of Maui's most ... Read more
Location: Maui, Hawaii
Duration: 2 hours 30 minutes (approx.)