Whale Watching on Maui
By Viator, March 2015
There are few winter activities more iconic to the Hawaiian Islands than getting out on the water and
whale watching from Maui
. Home to the greatest concentration of humpback whales in the northern Pacific, it's estimated that somewhere between 10,000 and 15,000 humpback whales will pass through the waters of Maui County at some point during the winter.
Although the earliest arrivals will show up sometime in late October, whale season in Maui officially runs from December 15 to May 15, with the greatest population being present during January, February, and March. During this three-month stretch anyone who chooses to go whale watching from Maui is guaranteed to see a humpback whale, and the big question isn't if you're going to see any whales, but instead trying to figure out which whales are going to be the most active.
Departing from their summer feeding grounds in the Gulf of Alaska, these 45-foot mammals travel thousands of miles to the warm waters off of Maui to mate, give birth, and nurse their young. While active mating or a live birth has yet to be witnessed by researchers, the prospect of going whale watching from Maui and seeing a mom and her newborn calf breaching, tail-slapping, or getting right up close to and "mugging" a tour boat are all very real possibilities during the peak of the Maui whale watching season.
Although there is no single time during the day when whales are at their most active, oftentimes the ocean is calmer during the morning hours which makes spotting a tail-slap or spout that much easier. While whale watching trips from Maui can undoubtedly be a magical moment, it's important to remember that not all whale-watches can guarantee the same results.
It's also important to remember that—despite their dense population—humpback whales in Maui are still wild and there is no guaranteeing the way in which they are going to act. Just because one Maui whale watch was the experience of a lifetime doesn't mean that the next one is going to be a repeat of before. Similarly, if you've already been on a whale watching trip from Maui and it wasn't all that great, chances are that the next one could be the one where you get the breach photo you've always dreamt of.
Who knows? One minute you could be cruising through the warm waters of the Pailolo Channel, the classic Maui tradewinds whipping through your hair, and in the next moment be thundering "Thar she blows!" as an adult humpback dives below your boat and down into the deep blue sea.
Contributed by Kyle Ellison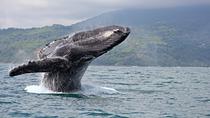 190 Reviews
Experience the thrill of Maui whale- watching on a two-hour whale-watching cruise. This educational and informative adventure is great fun for the entire ... Read more
Location: Maui, Hawaii
Duration: 2 hours (approx.)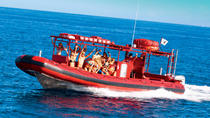 4 Reviews
Enjoy a prime opportunity to see humpback whales as they migrate through Hawaiian waters from Alaska between December and May. Setting out from Kihei, cruise ... Read more
Location: Maui, Hawaii
Duration: 90 minutes (approx.)