Viewing All 1 Photos
Certified photos by travelers like you.
Len L Australia
May 2010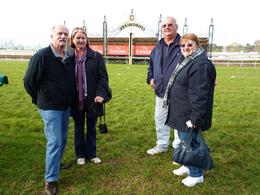 Len, Sue, Mick & Pat standing on the race track at Flemington. We saw the Stewards room, the members area and walked in the horses show arena. This is great for people who love the Races, to see from the otherside. The MCG, 2006 Commonwealth Village and Carlton Brewery also all very interesting.