Mendoza is the home of quality Malbec red wines – in fact, Mendoza Malbec wines are so fine, they're beating French Malbec hands down!

Argentine wines date back to the Spanish conquistadors, and the tradition lived on through missionaries and the country's 19th-century aristocratic landowners who imported French vines. The home of the majority of these wines is Mendoza, where the soil, climate and altitude have combined to create perfect wine-growing conditions.

While Malbec is declining in France, in Mendoza the variety thrives and doesn't succumb to the mold, insects and frosts that have decimated the European grapes.

Along with Malbec, the region also produces Cabernet Sauvignon, Merlot and Syrah reds, plus Chardonnay, Sauvignon Blanc, Riesling and Semillon whites. Traditionally, Mendoza wines were made from pink-skinned cereza and criolla grande grapes.

If you like robust, rich reds, you'll love Mendoza's Malbec wines, like a cross between a Cab Sav and Merlot with notes of cherry, chocolate, plum and leather. The wine is best enjoyed with the city's famous grilled steak and meat dishes.

To sample wines from various vineyards, take a wine-tasting tour of the cellar doors, focusing on the two main winegrowing regions: Lujan and Maipu, less than 20km (12.5 miles) from Mendoza.

You can visit vineyards going back more than a century at Santa Ana and Escorihuela, and drop into the National Wine Museum in Gutierrez.

Head to the historic village of Maipu, 17km (10.5 miles) southeast of Mendoza, to visit the winemaking museum and La Rural winery.

Taste the results of high-altitude winegrowing in the Uco Valley, or the established appellations of Lujan de Cuyo. Many wineries broaden the focus to include Argentine cuisine, and delve into the fine art of food and wine pairing during laid-back lunches.

Join an organized wine tour, ride a bicycle, or hire a car and driver to get from winery to winery with your purchased wines in tow.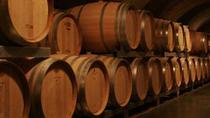 50 Reviews
With its rolling vineyards set in the foothills of the Andes, the Mendoza wine region is unlike any other wine region on earth. Experience it with a local ... Read more
Location: Mendoza, Argentina
Duration: 8 hours (approx.)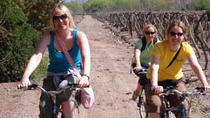 12 Reviews
Mendoza wine country is best seen by bike, when you can cover a lot of ground while enjoying the fresh air and sunshine! On this full-day bike tour, head out ... Read more
Location: Mendoza, Argentina
Duration: 6 hours (approx.)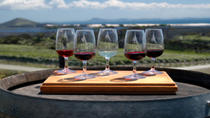 9 Reviews
Sip wine and learn about Argentina's winemaking practices on this luxurious, full-day tasting tour in Maipú. Accompanied by an expert guide, visit three ... Read more
Location: Mendoza, Argentina
Duration: 8 hours (approx.)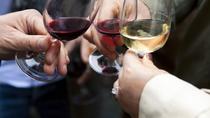 1 Review
Luján de Cuyo, land of Malbec, invites you to experience the legendary and other great varietals of wines produced in this region. We will visit and ... Read more
Location: Mendoza, Argentina
Duration: 8 hours 30 minutes (approx.)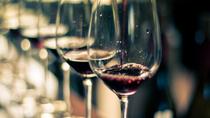 1 Review
Visit three Uco Valley wineries and learn of Argentina's winemaking heritage on this full-day wine tour from Mendoza. Beneath the towering peaks of the Andes ... Read more
Location: Mendoza, Argentina
Duration: 9 hours (approx.)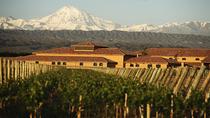 3 Reviews
This is a perfect tour to learn about the wine culture of Mendoza! Enjoy 7 hours and share with our guide a traditional wine experience.
Location: Mendoza, Argentina
Duration: 7 hours (approx.)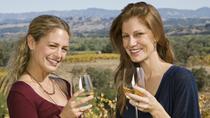 Visit three celebrated wineries — Cruzat, Chandon and Septima— to sample sparkling wine and learn what makes the fizzy vino from Mendoza distinctive. This wine ... Read more
Location: Mendoza, Argentina
Duration: 7 hours (approx.)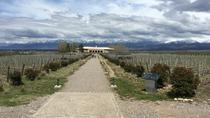 1 Review
Discover Lujan de Cuyo's finest wineries nestled in the heart of Mendoza's wine country. During four winery visits, see the vineyards and cellars, learn about ... Read more
Location: Mendoza, Argentina
Duration: 8 hours (approx.)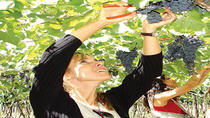 Argentina produces world-renowned wines, so don't miss this chance to escape the city for the day on a wine-tasting tour. Travel through the beautiful ... Read more
Location: Mendoza, Argentina
Duration: 6 hours (approx.)