Menorca RECOMMENDATIONS See all
3 Days in Menorca: Suggested itineraries
By Viator, March 2014
No reviews, be the first!
Menorca is a tiny island in the Balearic Islands. Because of its size, it is fairly easy to pack a lot into a few short days on the island. However, thanks to the gorgeous beaches, seemingly never-ending opportunities to get in touch with nature, and its historic relics, it is quite easy to take a few days and extend it longer.

Day One:
Beach, beach and more beach.  Whether on the sand or on the water, Menorca's beaches are the ideal way to start any Spanish holiday. Lounge seaside, or hop on a boat and check out the island from a different perspective. Then, by night, head into town, either Ciutadella or Mahon, to get some culture, eat some fresh fish and party the night away.

Day Two:
Island exploration. There are plenty of spots on this little island to explore. From the prehistoric sites like the taulas, the T-shaped rock formations, to the more "modern" Fort Malrborough, an underground fortress hundreds of years old, there are plenty of ways to get in touch with history and learn about the island's rich history, which dates back thousands and thousands of years. After getting in touch with the past, bring yourself into the present and wander Ciutadella. The former capital of Menorca, Ciutadella is a gorgeous town filled with Moorish influence and beauty. Then, head up to El Toro around sunset for a captivating view of the island and surrounding sea.

Day Three:
Enjoy the great outdoors. There are so many options for outdoor lovers on Menorca. Book a horse and explore the beaches on horseback. Or, rent a bike or motor bike and cruise around the roads which wrap in and around the island. A scenic and beautiful path to explore is Cami den Kane. The island is also great for swimming, snorkeling, diving, kayaking  and sailing. Take an afternoon and pick the water sport of your choice and indulge in some of the clearest waters and colorful underwater life in the Mediterranean. Then, pay a visit to Mahon, the capital of Menorca. En route, stop at S'Albufera des Grau Nature Park for an hour or two, before heading into town for dinner in the charming city.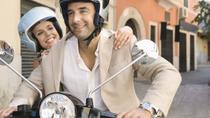 Hire a scooter in Menorca (or Minorca) and explore the gorgeous Balearic Island at your own pace! With one helmet and a map included plus a choice of durations ... Read more
Location: Menorca, Spain
Duration: Varies