Dzibilchaltun Ruins Tours
Near the ancient town of Merida, you'll find the massive but beautifully ruinous structure known as the Dzibilchaltun Ruins. Though somewhat of a tongue twister for traditional English speakers, the name means "place where there is writing on the stones," but unfortunately, due to erosion, you'll no longer find much writing on the stones here. Instead, the intrepid explorer is rewarded with over 8,400 architectural structures to discover, many of which have astronomical (as well as religious) significance. Explore the stunning interior of the Temple of the Seven Dolls, listen to stories of absolute power at the Open Chapel and learn about the rich ancient Mayan civilization that was inhabited all the way through to 1500 A.D. when the Spaniards arrived.
Practical Info
Dzibilchaltun is only nine miles from Merida. If you'd rather drive, take the Merida/Progreso Highway north for seven miles, watching the signs as you go. You will end up taking two right turns as you make your way to the ruins.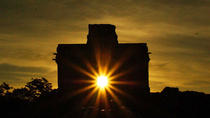 2 Reviews
Enjoy a day trip to see Dzibilchaltun and Progreso Port from Merida. Dzibilchaltun is known as the place of "writing on stone" and it's located 15 ... Read more
Location: Merida, Mexico
Duration: 7 hours (approx.)