Messina Cruise Port Tours
The Messina port is the 'door of Sicily,' set in a busy port city located on the narrow Strait of Messina. Messina is Sicily's closest city to mainland Italy and is a regular port of call for cruises around the Western Mediterranean Sea and Europe. Cruisers love the city for its striking architecture, flavorful street food, and easy access to Taormina and other areas in Sicily.
The Basics
While Messina has its own set of highlights—the 12th-century Duomo with its bell tower and astronomical clock; the Regional Museum of Messina; and the Church of the Santissima Annunziata dei Catalani to name a few—most cruise ship passengers opt to head out of town on a shore excursion to other Sicilian sights. Taormina is a popular option, set just 30 miles (52 km) down the coast and often compared to the villages on Amalfi Coast for its beaches and shopping. The wonderfully preserved medieval city is also famous for its outdoor Greek Theatre by the sea.
A Taormina tour can be combined with a stop at nearby Mt Etna. Surrounded by the largest wilderness area in Sicily, Parco dell'Etna, the ancient volcano is the most active in the world. Other cruisers opt for a Messina shore excursion to Castelmola, Catania, the Alcantara Gorges, or Italy's Cyclops Riviera.
Local bus and train services can be unreliable; opt for a shore excursion that includes roundtrip transportation to avoid worrying about making it back to the ship in time.
A private tour affords you the opportunity to see all the sights on your list.
Take a cruise excursion to Savoca to see an array of The Godfather filming sites.
If you'd rather not travel outside Messina, take a guided city tour to discover the area's storied past of battles and earthquakes.
How to Get to Messina From the Cruise Port
The Port of Messina is right in the heart of downtown Messina, so it's easy to walk straight off the ship and into the Piazza del Duomo, the heart of the Old Town area. There isn't much need for taxis, as most of the city's main sights are within walking distance of one another. If you do choose to go further afield, car rentals and taxis are readily available but a bit expensive.
Port Information
The language in Messina is Italian, and despite the city's port status, English is not commonly spoken. The main tourist hubs are a bit more English-friendly. The currency is the euro; ATMs can be found throughout the city. Stop by the Tourism Office at Piazza Stazione for additional information.
28 Reviews
Travel by air-conditioned bus with a maximum group of 30 passengers for this opportunity to discover and visit Taormina (32 miles (52 km) away from Messina) ... Read more
Location: Taormina, Italy
Duration: 6 hours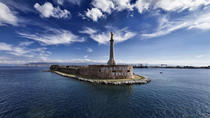 5 Reviews
While you're in port in Messina, take a full-day private shore excursion to Taormina and Mt Etna. Take in scenic views as your private driver takes you along ... Read more
Location: Messina, Italy
Duration: 9 hours (approx.)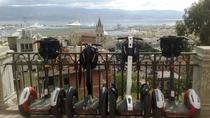 3-hour Segway tour lead by an expert local guide See top Messina attractions including: Piazza Cairoli, Piazza Pugliatti, where Messina's Court of ... Read more
Location: Messina, Italy
Duration: 3 hours (approx.)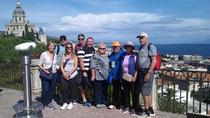 Explore the coastal jewel in northeast Sicily on this 6-hour Messina city tour. Spin along the Ionian coast by air-conditioned coach, along with a maximum ... Read more
Location: Messina, Italy
Duration: 6 hours (approx.)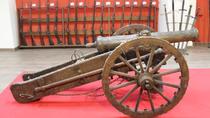 Explore the coastal jewel in northeast Sicily on this 6-hour Messina city tour. Spin along the Ionian coast by air-conditioned bus as a guide sheds light on ... Read more
Location: Messina, Italy
Duration: 6 hours (approx.)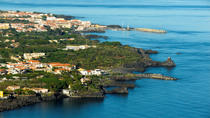 Enjoy a full-day private shore excursion from the Messina port to the picturesque Cyclops Riviera, encompassing the Sicilian fishing villages of Catania and ... Read more
Location: Messina, Italy
Duration: 9 hours (approx.)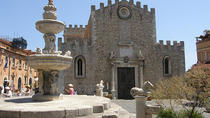 1 Review
Explore the quaint, Sicilian town of Taormina, overlooking the Ionian Sea, on this 4-hour tour. Visit famous sites like the Greek theater, the Cathedral, Mount ... Read more
Location: Messina, Italy
Duration: 4 hours (approx.)