3 Reviews
Address:

Calz de Tlalpan 3465, Santa Ursula Coapa, Coyoacán, Ciudad de México, D.F. Mexico 04650, Mexico

Admission:

Varies per ticket
One of the largest stadiums in the world and home to the professional football club America, the Azteca Stadium (Estadio Azteca) is a soccer (fútbol) stadium and is the official stadium of Club America and Mexican national football team. Located in the Santa Ursula neighborhood of Mexico City, this massive architectural structure was built to accommodate the legions of stalwart football fans that Mexico City is known to foster. One of the most highly regarded and notable football stadiums in the world, Azteca Stadium is the first in the world to have hosted two FIFA World Cup Finals, as well as the 1986 quarter-final match between Argentina and England, where both the "Hand of God" goal and the "Goal of the Century" were scored.
Little known fact about Azteca Stadium – now owned and operated by Televisa, during a brief stint in the late 1990s, Televisa was worried about its prized stadium sharing a name with its rival Azteca Television, and so it changed Azteca Stadium's name to Guillermo Canedo. Unfortunately for them, the Mexico City fans are die-hards and flat out refused to call it anything but their prized Azteca (which pays homage to the region's Aztec roots). Recognizing their somewhat awkward public relations blunder, Televisa switched the name back to Azteca quietly and without much fanfare some short years later.
Practical Info
Azteca Stadium is locatd at Calz de Tlalpan 3465 in Mexico City.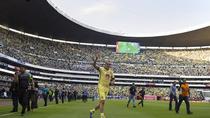 1 Review
If you consider yourself a football soccer lover then you can't pass out the opportunity to see the magnificent Azteca Stadium. With a capacity of 105,064 ... Read more
Location: Mexico City, Mexico
Duration: 4 hours (approx.)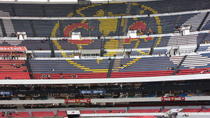 2 Reviews
Visit one of the world's most famous sporting venues, Mexico City's Azteca Stadium. Enjoy a guided tour of the stadium, which is the official home of Mexico's ... Read more
Location: Mexico City, Mexico
Duration: 90 minutes (approx.)