136 Reviews
Address:

Plaza de las Americas 1, Avenida de los Misterios y Calle Fray Juan de Zumárraga, Mexico City, Mexico

Hours:

Tue - Sun 10am - 7pm

Admission:

Free
The Patron Saint of Mexico, and of all the Americas, is the Virgin of Guadalupe. According to legend, she appeared to Juan Diego Cuauhtlatoatzin on December 9, 1531. In his vision, she was a teenage girl of indigenous complexion, and spoke to the recently baptized Aztec in his native Nahuatl. There, atop Tepeyac Hill, she asked him to build a shrine in her honor. When the Spanish priests refused to believe Juan Diego's tale, she gave him a sign: Roses in December, and the miraculous painting, echoed all over the world, and still revered today.
Today, the Shrine of Guadalupe is the most visited Catholic religious site on Earth, and pilgrims attribute to her image all manner of miracles. They pack the enormous basilica, designed to offer a fine view of her image from anywhere within, asking her help with everything from relationship woes to healing terminal cancer. 
In the days leading up to December 12, the anniversary of the miracle of roses, pilgrims from all over the world arrive, often on their knees. The entire country joins in with the festivities, holding parades, firework shows, and special Masses, with the center of celebrations right here.
Practical Info
There are actually 2 basilicas dedicated to the the Virgin of Guadalupe, next to each other on the northern outskirts of Mexico City. The original 1531 Basílica Antigua (Old Basilica) is a classic piece of Spanish Colonial architecture, with Mudéjar elements and ornate retablos; today it holds a museum of religious art (closed Mondays).
Crowds visiting Nuestra Señora de Guadalupe outgrew her original home, and in 1974 Mexican architect Pedro Ramírez Vázquez was tapped to build the much larger and more modern Shrine of Guadalupe that currently houses her miraculous image.
There are 2 metro stations within walking distance of the shrines, Basílica and La Villa.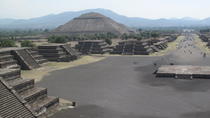 732 Reviews
Experience the ancient City of the Gods on a visit to the archaeological site of Teotihuacan. Your full day guided tour will highlight the complexities of ... Read more
Location: Mexico City, Mexico
Duration: 11 hours (approx.)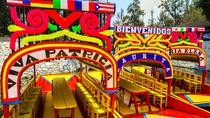 42 Reviews
Make the most of your trip to Mexico City with this Super Saver that includes 6 of the top visited attractions in the city and its surroundings in two days. ... Read more
Location: Mexico City, Mexico
Duration: 2 days (approx.)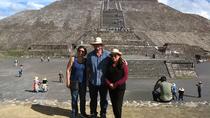 44 Reviews
Enjoy a private tour in Mexico City and visit the Teotihuacan archaeological site and the Guadalupe Shrine. You will have a professional guide with you and ... Read more
Location: Mexico City, Mexico
Duration: 6 hours (approx.)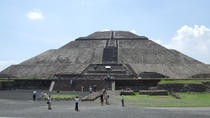 51 Reviews
This full-day tour will take you to incredible and important attractions in Mexico City. You'll visit Tlatelolco, part of the capital of the Aztec empire; see ... Read more
Location: Mexico City, Mexico
Duration: 8 hours 30 minutes (approx.)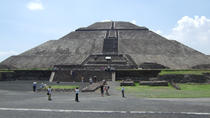 1 Review
Visit Teotihuacan "City of the Gods" in the early morning when the sun begins to rise over the pyramids. Avoid the arrival of other tour groups from Mexico ... Read more
Location: Mexico City, Mexico
Duration: 9 hours (approx.)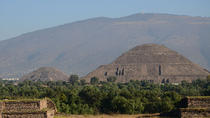 7 Reviews
Escape the hustle of Mexico City with a guided tour of two of the most popular nearby attractions. First, explore the Basilica of our Lady of Guadalupe with a ... Read more
Location: Mexico City, Mexico
Duration: 6 hours (approx.)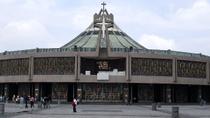 18 Reviews
The image of the Lady Virgin you see everywhere in Mexico has a story, and that story began at the Shrine of Guadalupe. This 4-hour tour led by a knowledgeable ... Read more
Location: Mexico City, Mexico
Duration: 5 hours (approx.)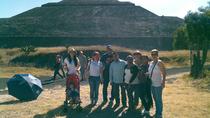 Make the best of your two days in Mexico City with a private guided visit to the Pyramids of Teotihuacan as well as a tour aboard a trajinera in Xochimilco. ... Read more
Location: Mexico City, Mexico
Duration: 6 hours (approx.)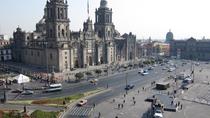 1 Review
Exclusive Mexico City overview, private tour of Teotihuacán pyramids & Basilica of Our Lady of Guadalupe. One day tour to see all the major ... Read more
Location: Mexico City, Mexico
Duration: 9 to 10 hrs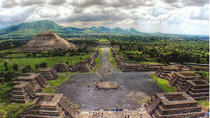 During this private tour, you will see Mexico City's city center and its main sights. Afterwards, you will pay a visit to Teotihuacan and see the famous ... Read more
Location: Mexico City, Mexico
Duration: 8 hours (approx.)