542 Reviews
Address:

Carretera Mexico Teotihuacan KM 46, San Juan Teotihuacán, Mexico

Hours:

Daily 7 a.m. to 6 p.m.

Admission:

51 pesos
Just north of Mexico City are the mysterious Teotihuacán Pyramids, built in 300 BC as the centerpiece of an enormous city that is often compared to ancient Rome. They were inexplicably abandoned centuries before the arrival of the Aztecs, who called the ancient architectural marvel the 'Birthplace of the Gods.'
Neither the Aztecs nor modern archaeologists have unraveled the secrets of these massive ruins, presided over by the third-largest pyramid in the world. Constructed according to precise astronomical measurements and filled with the bodies of sacrificial victims, Teotihuacán was perhaps a place where rituals were performed to keep the end of the world at bay. But no one really knows.
Thus, this mystic spot is one of the most enigmatic and impressive archaeological sites in North America. Its vast stone expanse of humbling temples are still covered with rich and detailed stone statues, even faded paintings. Visitors can experience the pyramids in a number of unique ways and even opt for an early morning tour with a private archaeologist. Other exploration options include a hot air balloon tour, a bike ride around the complex and the compelling Light and Sound show.
Practical Info
Two roads head north to Teotihuacán from Mexico City (exit on Insurgentes): the scenic but long 132-D, a winding freeway that can take well over an hour, and 85-D, a toll road that usually gets visitors to the pyramids in about 50 minutes. It's also easy and convenient to take buses from the Terminal Central del Norte. Clearly marked buses leave hourly (at least) from the terminal and are geared toward tourists with limited Spanish skills. On weekends and holidays, a tourist trolley can be taken around the Teotihuacán Pyramids for a small fee. Be aware that the ruins are free for Mexican citizens on Sunday, so the place is packed. The Light and Sound show is available seasonally, from April through December.
515 Reviews
Visit the pyramids at Teotihuacan – City of the Gods – on this archeological tour from Mexico City with a specialized guide. Arrive early at the UNESCO World ... Read more
Location: Mexico City, Mexico
Duration: 7 hours (approx.)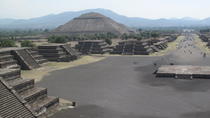 619 Reviews
Experience the ancient City of the Gods on a visit to the archaeological site of Teotihuacan. Your full day guided tour will highlight the complexities of ... Read more
Location: Mexico City, Mexico
Duration: 11 hours (approx.)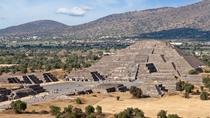 43 Reviews
Visit the archeological site of Teotihuacan – a UNESCO World Heritage site – on this private tour from Mexico City with an expert archeologist guide. As you ... Read more
Location: Mexico City, Mexico
Duration: 7 hours (approx.)
9 Reviews
Make the most of your trip to Mexico City with this Super Saver that includes 6 of the top visited attractions in the city and its surroundings in two days. ... Read more
Location: Mexico City, Mexico
Duration: 2 days (approx.)
28 Reviews
This full-day tour will take you to incredible and important attractions in Mexico City. You'll visit Tlatelolco, part of the capital of the Aztec empire; see ... Read more
Location: Mexico City, Mexico
Duration: 10 hours (approx.)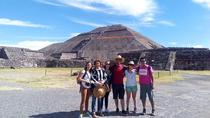 16 Reviews
See Teotihuacan archaeological zone on this walking tour as you visit the ruins of the most important pre-Hispanic civilization to the north of the Mexico ... Read more
Location: Mexico City, Mexico
Duration: 6 hours (approx.)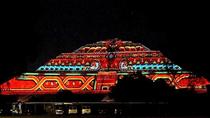 3 Reviews
Visit Teotihuacan "City of the Gods" and live a unique experience with the Light and Sound show. You will see this UNESCO-listed archaeological site with ... Read more
Location: Mexico City, Mexico
Duration: 5 hours (approx.)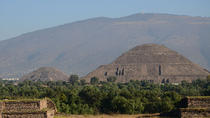 3 Reviews
Escape the hustle of Mexico City with a guided tour of two of the most popular nearby attractions. First, explore the Basilica of our Lady of Guadalupe with a ... Read more
Location: Mexico City, Mexico
Duration: 6 hours (approx.)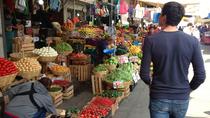 1 Review
This full-day tour of Mexico City's markets and Teotihuacán gives you special insight into history and local cultures. An in-the-know guide whisks your ... Read more
Location: Mexico City, Mexico
Duration: 13 hours (approx.)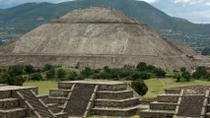 24 Reviews
Leave Mexico City behind on a small-group tour to the ancient Teotihuacan Pyramids. Meet the locals in the typical Mexican town of San Martin de las Piramides, ... Read more
Location: Mexico City, Mexico
Duration: 9 hours (approx.)