Mexico City RECOMMENDATIONS See all
Tula from Mexico City
By Viator, June 2016
No reviews, be the first!
Near the town of Tula de Allende lie the ruins of Tollan, capital of the Toltec empire that thrived from the 9th through the 12th centuries. The Toltecs were known for their military prowess, practice of human sacrifice and advanced artistic culture. At its peak, Tollan may have been one of the largest cities in Mesoamerica, with a population of 30,000 and possibly much more.

The site includes pyramids, colonnaded buildings, sculptures, and ball courts. The major structure to explore is the Temple of Tlahuizcalpantecuhtli, known as Pyramid B. At the top of this pyramid stand 4 massive statues of warriors, more than 15 feet (4.5m) tall, which once served as columns supporting the roof of a temple. 

Only the city's larger structures remain; unfortunately there is no trace left of the surrounding residences, which appear to have been laid out in a grid pattern.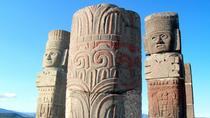 13 Reviews
See two parts of the history of Mexico on this private day trip from Mexico City. First, you'll visit Tula and learn all about the culture, which is considered ... Read more
Location: Mexico City, Mexico
Duration: 7 hours (approx.)