Best Everglades Tours from Miami
By Viator, December 2016
When visiting Miami, you can't leave without seeing Everglades National Park, listed as an International Biosphere Reserve, a Wetland of International Importance and a World Heritage Site. The best way to explore the 1.5 million acre (611,000 hectare) park is via airboat, which uses wind power to hover over the 'River of Grass.' The airboats have a flat bottom and are propelled by a powerful fan, similar to an aircraft. Because they don't have an outboard engine, they can access shallow areas of the swamps without disturbing them like traditional boats might. Prepare yourself for a thrilling ride through the maze of mangroves and swamp grass; keep a look out for animals like alligators, ocelots, manatees and the elusive Florida Panther.
Some combo tours offer other ways to explore South Florida in addition to the airboat ride. These add-ons typically bring the tour time up to between 4 and 8 hours.
Visit an Alligator Farm
Some tours stop at an alligator farm for a guided jungle walk and an alligator show. During the educational presentation, watch professional animal trainers feed the animals by hand and encourage them to perform certain behaviors. You may even get to hold a juvenile alligator for some great photo ops.
Explore Miami
Get a more comprehensive overview of both the urban and wild life in South Florida by including a guided tour of Miami and Miami Beach. Cruise down Ocean Drive, South Beach's major thoroughfare, to get views of some of the city's luxe Art Deco mansions. Embark on a boat ride to explore Biscayne Bay, including the Port of Miami, Fisher Island and views of the megayachts in the marina near South Beach.
Avid cyclists can opt for a package that includes a full-day bike rental. Under your own steam, explore the bike-friendly city of Miami independently after returning from the wetlands.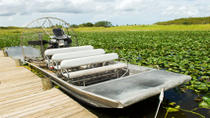 234 Reviews
Visit the Everglades National Park and Biscayne Bay Boat Tour all in one day!
Location: Miami, Florida
Duration: 6 hours (approx.)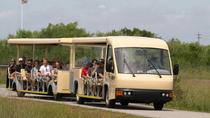 23 Reviews
Join this 2-hour Shark Valley tram tour for an in-depth look through the northern region of Everglades National Park. This naturalist led tour is conducted on ... Read more
Location: Miami, Florida
Duration: 2 hours (approx.)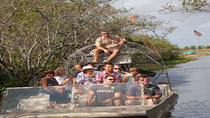 81 Reviews
Combine two of Miami's most popular tours and save! With this Miami Super Saver tour, visit the Florida Everglades and see the sights of the city. In the ... Read more
Location: Miami, Florida
Duration: 8 hours (approx.)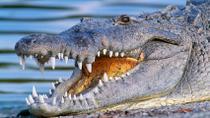 291 Reviews
Experience panoramic views of lush vegetation teeming with wildlife as you venture deep into the interior of the Florida tropical wetlands on a Miami ... Read more
Location: Miami, Florida
Duration: 4 hours 30 minutes (approx.)