Lake Day Trips from Milan
By Viator, April 2016
The northern part of Italy is well-known for its picturesque lakes, but what might not be as well-known is that you can visit most of the lakes from a base in Milan. You'll either have to make multiple day trips or plan to spend a few days exploring the lakes in a loop from Milan, but either way taking lake day trips from Milan is a great way to see the area.

Here are the Italian lakes you can visit in day trips from Milan.

Lake Como
Arguably Italy's most famous lake, Lake Como is where you'll find the beautiful town of Bellagio. The lake is shaped like an updside-down Y, and each branch of the lake is relatively narrow — which means that once you arrive at any of the cities or towns along the lake you can easily explore towns along the shore on either side by boat. Of course, many people come to Lake Como directly for their Italian vacations, staying in Como, Bellagio, Varenna, or another town, relaxing and enjoying the lakeside activities — but if you've just got time for a day trip from your stay in Milan, Lake Como is an excellent choice.

Lake Maggiore
Lake Maggiore isn't Italy's largest lake (despite its name), although it is quite big. The northern part of the lake actually extends into Switzerland's Ticino canton, while much of one side of the lake is in the Lombardy region (the same one as Milan). In addition to the many lakeside towns you can visit, there are also some pretty islands on the lake that are popular on day trips. Head for the towns of Stresa or Verbania (both in the Piedmont region) to visit the lovely islands located nearby.

Lake Garda
Lake Garda is Italy's largest lake, and it sits between Venice and Milan. It's a popular day trip, therefore, from either city. Many of the more popular cities and towns along the lake are in the Lombardy region, the same one as Milan, including the town of Sirmione. The town is easy to spot, as it is located at the end of a narrow spit of land that juts into the lake from the southern shore. One of Italy's most visited amusement parks — Gardaland — is nearby, in case you've got antsy children to entertain.

Lake Lugano
The small lake between Lake Maggiore and Lake Como is Lake Lugano, which is almost entirely in Switzerland. There is a bit of lakeshore in the Lombardy region, however, if you're looking for a lakeside destination without the crush of tourists found at Lake Como or Lake Maggiore. The towns of Porlezza, Valsolda, and San Mamete are all on the Italian side facing Lake Como, while towns like Porto Ceresio and Brusimpiano are on the Italian side facing Lake Maggiore. You'll be better off renting a car to explore Lake Lugano.

Lake Iseo
Lake Iseo is another small lake in northern Italy, sitting roughly between Lake Como and Lake Garda and entirely in the Lombardy region. It's not far from the towns of Brescia and Bergamo, if you'd like to combine a visit to Lake Iseo with another good day trip destination from Milan. This is another area where you'll want to have a car to get around, as it's more remote and less-visited than some of the other (larger) lakes in the region.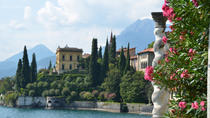 1276 Reviews
Take in the stunning scenery of world-famous Lake Como on this day trip from Milan, just a quick 1-hour drive away. Explore the fashionable lakeside town of ... Read more
Location: Milan, Italy
Duration: 9 hours (approx.)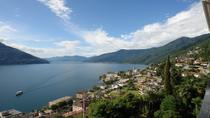 69 Reviews
Explore scenic Lake Maggiore in Italy's beautiful Lake District on a day trip from Milan. The fashionable lakeside town of Stresa is an approximate 1.5-hour ... Read more
Location: Milan, Italy
Duration: 9 hours (approx.)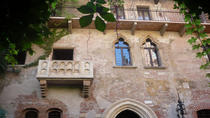 106 Reviews
Explore the beautiful town of Verona and lakeside towns lining Lake Garda on a scenic day trip from Milan. You'll discover that Verona is one of Italy's ... Read more
Location: Milan, Italy
Duration: 12 hours (approx.)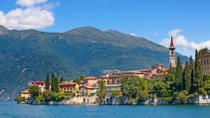 157 Reviews
Visit Italy and Switzerland in one day on a relaxing daylong excursion to Lake Como, Bellagio and Lugano from Milan! Hop aboard a sightseeing boat and cruise ... Read more
Location: Milan, Italy
Duration: 10 hours 30 minutes (approx.)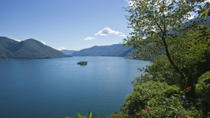 5 Reviews
Venture by train from Milan to one of Europe's more graceful corners, Lake Maggiore, with its pretty lakeside towns and lush Borromean Islands. Spend a ... Read more
Location: Milan, Italy
Duration: 11 hours (approx.)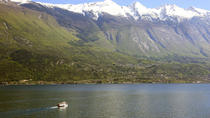 1 Review
Lake Garda is Italy's largest lake, but there's more than just the amazing Alpine scenery, mild climate and picturesque villages that keeps drawing visitors. ... Read more
Location: Milan, Italy
Duration: 11 hours (approx.)