Venice Day Trips from Milan
By Viator, August 2015
Venice is the kind of city that can inspire heavy sighs, particularly when you first arrive. Few places look so much like a postcard you can walk right into, and in that regard Venice doesn't disappoint. Both the train station and the island city's only parking lot empty right onto the famous Grand Canal - you could hardly ask for a better introduction.

If your Italy itinerary doesn't allow for a few days in the canal city, however, you can squeeze it into a day trip even from Milan. Sure, you might enjoy having more time in Venice than just a day trip, but the truth is that a single day in Venice is better than several days in other cities you could probably name. So why not go for it?

Venice's main sights can easily been seen in a few hours, but the real joy of the city is simply wandering its side-streets and back-alleys, which can take as long as you like. You can catch an early train from Milan's Central Station to Venice's Santa Lucia Station, visit St. Mark's Basilica and the Doge's Palace, wander aimlessly, ride a gondola, and take the last train back to Milan. On your trip back to Milan, you'll likely be plotting when you can revisit Venice with a few days to spare.

You can also opt for an organized day trip from Milan to Venice, which means someone else is handling not just the transportation but also the tour guides in Venice. You'll get a guided walking tour of the canal city, plus a boat tour, and you'll still be given free time to explore on your own before heading back to Milan. It's an easy way to incorporate the fantasy of Venice into your trip even if you don't have more than a day to spend there.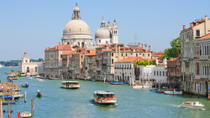 218 Reviews
Visit the breathtaking city of Venice on an action-packed day trip from Milan, and see the city's top sights with a local guide! On a walking tour, discover ... Read more
Location: Milan, Italy
Duration: 14 hours (approx.)