With its white sand beaches, brilliant turquoise waters and of course the famous Blue Mountains, Montego Bay attracts millions of tourists every year. Jamaica's rich music culture is also an experience quite unlike any other.
Day 1: Discover
Journey Away from the tropical waters of Montego Bay into the mountainous heart of Jamaica on the Johns-Hall Montego Bay Adventure tour. Engage with Jamaica's charming people as you make your way to a local school where the children will delight you with folklore, songs & rhythmic music. Visit more of the lush country side when you travel to a local plantation and even sample some of its delectable produce. Learn about the Jamaican way of life over an authentic lunch and stroll along one of Montego Bay's beautiful beaches for a refreshing first day at the Bay.
Day 2: Pay Tribute to a Legend
No trip to Jamaica is complete without taking the time to appreciate Jamaica's biggest musical legend Bob Marley. On Jamaica's Spirit of Reggae- The Bob Marley Experience Tour you will journey to the birth place of the king of Reggae, the village of Nine Mile tucked away in the majestic mountains of Jamaica. The tour lets you walk through his childhood home that is now a museum. You'll even get the chance to stand on Bob's meditation spot "Mt. Zoin Rock", rest your head on the pillow made famous by the song "Talking Blues" and pay homage to Marley at his final resting place. Along the way, do also indulge in some shopping at one of Jamaica's many open markets and take home some unique handicrafts or a bag of their world famous Blue Mountain Coffee.
Day 3: Adventure, Adventure!
Need a little adrenaline rush? Start off with The Canopy Tour which zips through the Jamaican rainforest, crossing a variety of Jamaica's landscapes at 35 MPH including the 150-year old Great River Dam.  Continue your adventure on the Jungle River Safari tour or try your hand at Bobsledding Jamaican style.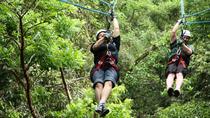 149 Reviews
Swing through the trees with the greatest of ease on this adrenaline-charged Jamaica zipline tour! Ride a zipline in Jamaica - soar from one platform to the ... Read more
Location: Montego Bay or Negril, Jamaica
Duration: 2 hours (approx.)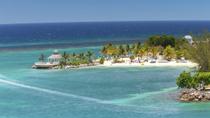 169 Reviews
While you're in Montego Bay, don't miss this day trip to Dunn's River Falls, one of Jamaica's most famous natural attractions. Swim and play in the pools ... Read more
Location: Montego Bay, Jamaica
Duration: Varies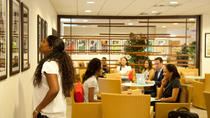 585 Reviews
Travel to and from the Montego Bay airport like a VIP with admission to the Club Mobay arrival and departure lounges. With your Club Mobay access, you'll have ... Read more
Location: Montego Bay, Jamaica
Duration: Flexible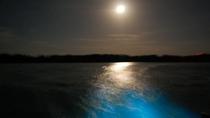 172 Reviews
Visit Jamaica's fascinating Luminous Lagoon on a night cruise! Cruise around the glowing lagoon in a small boat at night with your expert guide and go for a ... Read more
Location: Montego Bay, Ocho Rios and Negril, Jamaica
Duration: Varies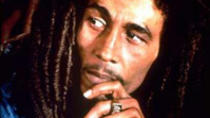 72 Reviews
When one thinks of Jamaica (mon), you can't help but think of the King of Reggae, Bob Marley. Journey to the village of Nine Mile, where Bob lived, loved and ... Read more
Location: Kingston, Kingston
Duration: 7 hours (approx.)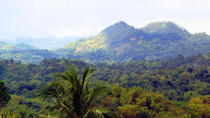 51 Reviews
Delve into the sights, history and spirit of Jamaica's capital of Kingston on this full-day trip from Montego Bay. Travel past lush plantations, mountains and ... Read more
Location: Montego Bay, Jamaica
Duration: 10 hours (approx.)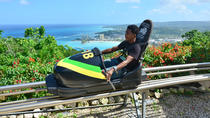 10 Reviews
Where else in the world can you experience the thrill of bobsledding without the icy conditions of a snowy mountain? For the adventure of a lifetime in ... Read more
Location: Montego Bay, Negril, Ocho Rios, Runaway Bay
Duration: 3 hours (approx.)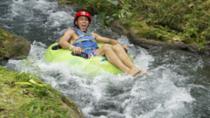 47 Reviews
Combine water, adrenaline and lounging in the tropical sun on the tour that has it all! Go inner tubing in a Jamaican river! Start your Jamaican inner tube ... Read more
Location: Montego Bay or Negril, Jamaica
Duration: 2 hours 30 minutes (approx.)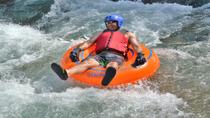 19 Reviews
Tube down the Rio Bueno in Jamaica on this tour! Let your adventurous side out as you float over rushing river rapids with your expert guide. Afterwards, take ... Read more
Location: Montego Bay, Ocho Rios, Runaway Bay and Falmouth, Jamaica
Duration: 3 hours 30 minutes (approx.)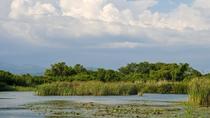 34 Reviews
Take an unforgettable cruise through one of Jamaica's most beautiful regions on this Black River and YS Falls sightseeing tour from Montego Bay. The longest ... Read more
Location: Montego Bay, Jamaica
Duration: 9 hours (approx.)