Capital of the St. James parish and the second largest city in Jamaica, Montego Bay has got more than its fair share of activities for the adventurous bunch. Flanked by mountainous jungle and crystal Caribbean water, Montego Bay is a great jumping off point for further exploration into the great Jamaican outdoors. 
Dunn River Falls is Jamaica's number 1 attraction, and this sparkling series of waterfalls lies only a short coach ride away from some of Jamaica's main tourist cities. After your coach ride, a short hike and sparkling terraced waterfalls await you. Admire how these falls cascade 600 feet into a series of terraced pools, and then get a chance to experience the cold clear water for yourself with a dip into one of the expansive pools. Perfect for exploring Jamaica's lush interior, a trip to Dunn River Falls is easy and accessible from Montego Bay.
If exploring the Jamaican jungle has piqued your interests, why not indulge and keep going? A river rafting adventure on the Rio Bueno (Good River) is always an exhilarating experience, while tubing down the river solo is an option for the bold and brave. Horseback trails venture deep into the jungle from Montego Bay, though they also lead to some marvelous secluded beaches.
Jamaica's Luminous Lagoon is another popular adventure from Montego Bay. Tiny microorganisms in this unique lagoon emit a luminescence when disturbed. An otherwise normal lagoon, come nightfall you can jump into the water and make an unforgettable experience in the water. Glow like an angel in the water as you float under the night sky – this is truly a special adventure.
53 Reviews
Enjoy a rough and ready trip in a four-wheel drive! Have the ultimate Jamaica off-road tour! You'll head west from Montego Bay/Negril to the islands interior ... Read more
Location: Montego Bay or Negril, Jamaica
Duration: 4 hours (approx.)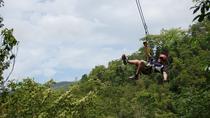 14 Reviews
Fly through the treetops on this zipline adventure in the mountains of Lethe in Jamaica. With expert guides on hand throughout the course, zoom across five ... Read more
Location: Montego Bay, Jamaica
Duration: 2 hours 30 minutes (approx.)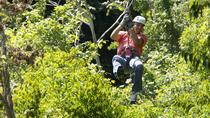 7 Reviews
Relax in a river tube and float along the beautiful Great River experiencing her alternating moods. Be refreshed by the cool waters while learning about the ... Read more
Location: Montego Bay, Jamaica
Duration: Flexible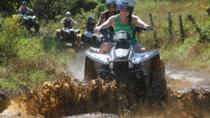 72 Reviews
Follow the call of the wild with this exhilarating ATV (all-terrain vehicle) off-road adventure from Montego Bay or Negril. Travel to a safari ranch in ... Read more
Location: Montego Bay or Negril, Jamaica
Duration: 2 hours (approx.)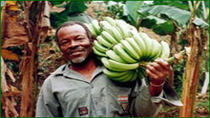 24 Reviews
Come, see, live, love and laugh captures the true spirit and flavor of Jamaica! Journey into the majestic mountainous countryside, wild flowers, lazy rivers ... Read more
Location: Montego Bay or Negril, Jamaica
Duration: 4 hours (approx.)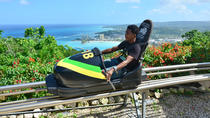 10 Reviews
Where else in the world can you experience the thrill of bobsledding without the icy conditions of a snowy mountain? For the adventure of a lifetime in ... Read more
Location: Montego Bay, Negril, Ocho Rios, Runaway Bay
Duration: 3 hours (approx.)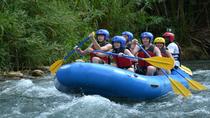 12 Reviews
Enjoy the beautiful tropical scenery on this river-rafting adventure down the Rio Bueno in Jamaica! Feel the rush of the rapids on this adventurous tour as you ... Read more
Location: Montego Bay, Falmouth, Ocho Rios and Runaway Bay, Jamaica
Duration: 3 hours 30 minutes (approx.)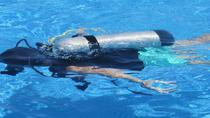 2 Reviews
Try scuba diving in Montego Bay, Jamaica with a 3-hour Discover Scuba Diving program for uncertified or first time divers. Your guide provides all necessary ... Read more
Location: Montego Bay, Jamaica
Duration: 3 hours (approx.)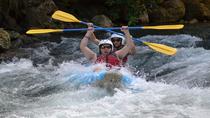 6 Reviews
Discover the scenic landscape of Jamaica while kayaking down the Rio Bueno! Paddle through the twists and turns of the Rio Bueno in a two-person kayak as you ... Read more
Location: Montego Bay, Ocho Rios, Falmouth and Runaway Bay, Jamaica
Duration: 3 hours 30 minutes (approx.)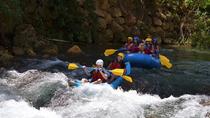 Experience a day where you indulge yourself in the most electrifying moments doing up to two water sports activities in the Rio Bueno River. Choose between ... Read more
Location: Montego Bay, Jamaica
Duration: 7 hours (approx.)