In 1958, Monterey's most famous waterfront street changed its official name from Ocean View Avenue to its long-time nickname Cannery Row in honor of the 1945 John Steinbeck novel of the same name.

Today's Cannery Row is a far cry from that of the "tin and iron and rust and splintered wood, chipped pavement and weedy lots and junk heaps, sardine canneries of corrugated iron …" described in Steinbeck's novel. There has not been a cannery here since 1973 and the street is now filled with shops, from boutiques to chain stores, hotels and restaurants -- and usually populated by more tourists than locals.

It is a wonderful place for strolling, admiring ocean views, snacking on salt-water taffy, gaining easy beach access and watching the many characters that gravitate here. The world famous Monterey Bay Aquarium is located at the northern end of Cannery Row, housed in what was once a sardine cannery. Signposts along the way display quotes from Steinbeck and insights into the history of the area.
Practical Info:
Cannery Row is easily walkable. Visitors traveling by car on the Highway 1 should look for signs for Monterey Bay Aquarium, then park at one of the nearby parking garages or on the surrounding streets. During the summer, visitors can park in downtown Monterey and hop on the free WAVE shuttle bus (which is clearly signposted) to reach the town's attractions.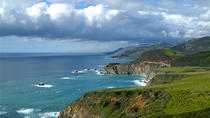 2 Reviews
Enjoy two of the most beautiful California coastal cities on this amazing day trip. Travel by bus down the rugged Cali coast, also known as Pacific Coast ... Read more
Location: San Francisco, California
Duration: 12 hours (approx.)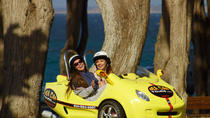 1 Review
Explore Monterey Bay and the Central Coast in a GPS-guided Sea Car, cruising through town or along the Pacific on this 3-hour self-drive tour. Hop into your ... Read more
Location: Monterey, California
Duration: 3 hours (approx.)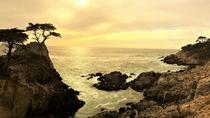 2 Reviews
Ride down Pacific Coast Highway 1 from San Francisco to Monterey & Carmel in a comfortable private SUV. See California with a Bay Area ... Read more
Location: San Francisco, California
Duration: 10 hours (approx.)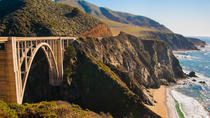 14 Reviews
This tour will start traveling south on the famous Pacific Coast Highway, California Highway 1. We will set foot on Monterey's famous Cannery Row for a chance ... Read more
Location: San Francisco, California
Duration: 14 hours (approx.)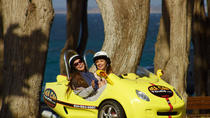 Fantastic ocean vistas at every turn. This is one of the best coast drives anywhere! Highlights include Monterey historical buildings, Fisherman's Wharf harbor ... Read more
Location: Monterey, California
Duration: 2 hours (approx.)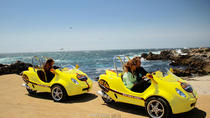 7 Reviews
Explore Monterey Bay and the Central Coast in a GPS-guided Sea Car, cruising through town or along the Pacific on a 1-hour tour. Hop into your own 2-seater ... Read more
Location: Monterey, California
Duration: 60 minutes (approx.)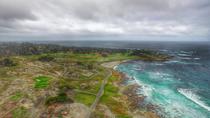 Be whisked away by limousine along one of the most scenic roads in California during this full-day tour from the San Francisco Bay Area. Cruise along the ... Read more
Location: San Francisco, California
Duration: 10 hours (approx.)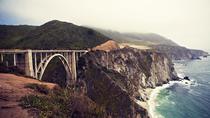 1 Review
Take advantage of a unique VIP Monterey Bay tour from San Francisco. Get your own executive chauffeur who will arrive at your front door in a luxury sedan or ... Read more
Location: San Francisco, California
Duration: 9 hours (approx.)