While many people typically picture Napa Valley, France and Argentina when they think of wine destinations, Uruguay offers many possibilities for vino-lovers. Because Uruguay is often overlooked for wine tasting, it poses some advantages for tourists. Not only will you beat the crowds, you'll also be able to immerse yourself in a wine culture that isn't showing off or pretending for visitors.

The country's most famous wine is made from the tannat grape, which originated in the southwest of France. Wine produced from this grape is rich, deeply colored and has a lot of tannins. Other popular red grapes grown in Uruguay include merlot and cabernet sauvignon, while chardonnay is the most frequently grown white grape. Hundreds of boutique, family-owned wineries can be found during a trip to Uruguay, you just need to know where to look.

Just north of Montevideo, in the departments of Canelones and San Jose, along with the department of Montevideo which contains its namesake city, you'll find the largest wine producing region in the country. This is where most oenophiles do their sampling, as they can still stay at a hotel in the capital. However, because the country is so small, and because bus travel is so efficient, reaching the more remote wine destinations is easy to do, as well.

There are myriad excellent wineries to visit, making it difficult to recommend just a few. However, here we will mention a few that are always well-received.

In Montevideo, you can visit Bouza, a winery built in 1942 that resembles a French chateaux. The building was restored in 2002 to retain the original design, matching the concept of mixing traditional wine-making methods with modern technology. Visitors can enjoy guided tours of the vineyards, winery and cellars, as well as strolls through their gardens, organic vegetable plots and to their Classic Car Museum.

The department of Canelones, which is perhaps the best place to go for wine tasting, is about a half hour away from Montevideo and is home to Ariano Hermanos, a family owned winery and vineyard since 1929. It was started by two brothers who left Italy and moved to Uruguay to make wine using old European traditions and methods. They have two vineyards to produce two different types of quality grapes grown in varied climates. This way, there's something for all who visit to enjoy. They love giving tours and tastings to visitors and getting feedback about their products from tourists.

Also in Canelones, you'll find one of the country's largest wineries, if not the largest, Juanico Winery. It is 100% family-owned by the Deicas family, who love giving guests a taste of their wines via a wine tour. The tour includes a stroll through the vineyards, a visit to the winery, antique stone buildings, underground cellars and a guided tasting.

If you'd like to get a bit more remote, visit Irurtia, a winery in the department of Colonia specializing in diverse fine wines since 1954. The varietal stocks come from France, and the product is aged in stainless steel tanks and French-oak barrels. All grapes are grown on 100% uncontaminated soil, so a tour and tasting here ensures a clean, natural wine. You can also try Stagnari in the Salto region, which is situated on the 32nd parallel (south), said to be the best spot in the country for producing wine. This is partially due to the extremely high temperatures during the day, with a sharp drop in temperatures at night, as well as soil that is part sandy clay and part pebbles, perfect for drainage and depth.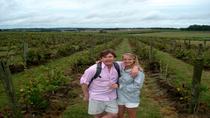 2 Reviews
Escape Montevideo for a morning of wine tasting! One of the largest producers of wine in South America, Uruguay is known for its red wines made from tannat ... Read more
Location: Montevideo, Uruguay
Duration: 4 hours 30 minutes (approx.)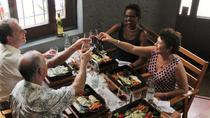 5 Reviews
Experience Uruguay's fine wine and cuisine on this 5.5-hour wine tour from Montevideo! First, head out of the city to visit a local winery where you'll sample ... Read more
Location: Montevideo, Uruguay
Duration: 5 hours 30 minutes (approx.)