Lachine Canal (Canal de Lachine) Tours
Running from Old Montreal to Lake St. Louis in western Montreal, Canal de Lachine is a 14.5 kilometer-long (9 miles) inland waterway that was mainly used for commercial shipping. It was built to allow ships to bypass the treacherous Lachine Rapids, which were not navigable. Work on the canal started in 1821, and it opened for navigation in 1825. The opening not only made Montreal one of the most important ports in North America and a significant trade center for wood, iron and steel, but it also helped develop the neighborhoods surrounding the canal like Petite-Bourgogne, Saint-Henri, Griffintown and Pointe St-Charles – in fact, Montreal's population quadrupled over the 50 years following the canal's construction.
Although the canal is now obsolete for commercial navigation, it is possible to visit its historic docks, the most popular ones being located in Old-Montreal. It is also possible to visit the Fur Trade at Lachine National Historic Site and its stunning stone warehouse – a perfectly preserved building that offers a unique glimpse of life in the 1800s, when the site acted as the starting point of the Canadian canoe routes for fur trade. Since it stretches on almost half of western Montreal, the canal can be enjoyed from a number of places, including by the Atwater Market – locals love getting a few nibbles at the market and eat al fresco canal side.
Practical Info
Lachine Canal can be accessed on foot or by car (parking available at the Science Center) from Old-Montreal. It is possible to walk its entire length to western Montreal from there. The Fur Trade at Lachine National Historic Site is located at 1255 Saint Joseph Boulevard in Lachine arrondissement – it can be reached from central Montreal in 15 minutes by car via routes A720 and A20. The site is open every day from June 21 to September 1 between 10AM and 5PM. Entry costs $4.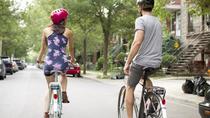 2 Reviews
See the main sights of Montreal in this 3-hour ride! This south city route covers the core of Montreal, including bustling Downtown, the narrow streets of ... Read more
Location: Montreal, Canada
Duration: 3 hours (approx.)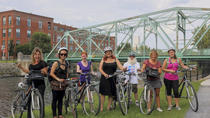 3 Reviews
Discover Montreal's street food scene on this food tour by bike that takes you to six local food trucks. Food truck popularity across the US and Canada ... Read more
Location: Montreal, Canada
Duration: 3 hours 30 minutes (approx.)