Saguenay–St. Lawrence Marine Park Tours
As the only park in the province entirely dedicated to preserve and enhance an exclusively marine environment, the Saguenay-St Lawrence Marine Park understandably boasts exceptional whale watching opportunities. The limpid waters of the biggest estuary in the world, the St Lawrence River, joins those of the longest fjord in Eastern Canada, the Saguenay Fjord; the marine park that is created in the process is abundant in natural treasures and biological diversity, including some of the world's most impressive cetaceans like the furtive blue whales, belugas, the harbor porpoise, the minke whale, the fin whale and the humpback whale as well as three types of seals and 150 species of birds.
Stretching over 1,245 square kilometers, the park requires an entire day to visit, if not more! It offers a myriad of activities like scuba diving (one of the highest ranking spots in the world for underwater life), marine observation cruises, sea kayaking, recreational boating, shore-based marine life watching, plane rides, geocaching, ice fishing, bird-watching, hiking and many more. History buffs will also have the chance to learn more about Basque whalers, the history of the local Aboriginal people, sailors and light keepers, and how their presence influenced the wealth of marine life in the area.
Practical Info
The Saguenay-St Lawrence Marine Park spreads from La Malbaie to Les Escoumins along the St. Lawrence River and to Lake St. Jean via the fjord. Entry to all of the three interpretation centers (Pointe-Noire, Cap-de-Bon-Désir and Marine Discovery Center) costs $7.80 per adult and $3.90 per child.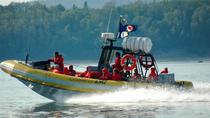 207 Reviews
While you're in Quebec City, don't miss a chance to see some of Canada's best wildlife on a whale-watching cruise! You'll travel to Baie-Sainte-Catherine by ... Read more
Location: Quebec City, Canada
Duration: 10 hours (approx.)