As one of the oldest settlements in North America, it doesn't come as a surprise that Montreal is the setting of plenty of ghost stories. But are they really just stories? After all, you don't get to be over 300 years old without a tiny little bit of supernatural weirdness.
And what could possibly be more haunted than a cemetery? The Mount Royal one is no exception. Although thousands of bodies are buried here, one in particular has apparently gotten bored with eternity and decided to scare visitors who dare to venture in the cemetery after nightfall – the Algonquin Indian, as the locals call it, is a Native American warrior said to be lurking on the cliffs at night, walking through the graves in search of his people.
The lavish Queen Elizabeth Hotel also has a reputation for being haunted by a "woman in white," who has supposedly been seen wandering the halls and staircases of this iconic downtown hotel. More than a handful of guests have mentioned her presence and say that they have been touched and pushed by her after hearing her footsteps and mysterious knocks. Even the staff couldn't help but concur, as they are all too aware of a presence observing them while they perform their duties. On the other side of town, the Fort of Saint Helen's Island is supposedly home to 800 soldiers who lost their lives when their general purposely put them in the line of fire of enemy sharpshooters during the 1837 rebellions. Whether these are tall tales or spooky truths, Montreal is known for its haunted historical stories.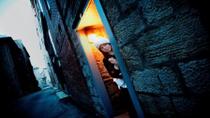 59 Reviews
Immerse yourself in the dark side of Old Montreal on this exciting ghost walk. After night falls, follow your guide through the hidden streets of Old Montreal ... Read more
Location: Montreal, Canada
Duration: 90 minutes (approx.)