Montreal has a fortunate position in the south of Quebec, bordering Ontario and just a short drive from the US. Even in Quebec, there are more than enough places to take multi-day trips if you want to get out of the city for awhile.
Montreal to Ottawa: Hop on a Greyhound or take the train, Ottawa is a just two hours away. The nation's capital city is one of the most beautiful cities in Canada, with its iconic Parliament Hill and neighboring government houses. Be sure to check out the Museum of Civilization, as well as the War Museum. Book a hotel room in the downtown core, and you'll have most major attractions within walking distance. 
Montreal to Toronto: Six to eight hours from Montreal is Toronto, Canada's most populous city and financial powerhouse. You'll want to spend several days here, as there's a lot to see and do! Take a ride to the top of the CN Tower, and even do the EdgeWalk around the top. If heights aren't your thing, head over to Kensington Market for food and shopping, or Dundas Square for some great people watching. If you have a few more days to spare, add on a day-trip to Niagara Falls.
Montreal to Mont-Tremblant Ski Resort: While Mont-Tremblant is notorious among skiers, it's also a great vacation escape during the summer. With its quiet pedestrian village, Scandinavian spa, and the best public golf course in Quebec, it's a popular destination for many Quebecers…and with good reason! 
Montreal to Quebec City: To the north is the province's most historical city, Quebec City. Here you'll find a stunningly beautiful European inspired town, even more so than Montreal's Old Port.  If you're able, head over to Montmorency Falls. Quebec's famous dish, poutine, was also born here – you must go to Ashton's to try some!  It's where the creation all began, after all.
Montreal to New York City: When you want a REAL getaway, New York City is your place to go. Several bus routes will deliver you right to the city, or you can drive (which takes about seven hours).  New York City seems like a smooth transition from Montreal – after all, both have outstanding arts, fashion, and restaurant scenes. But be sure to take in all the other Big Apple highlights, like The Statue of Liberty and the touching memorials at Ground Zero.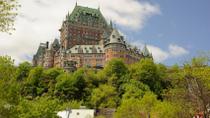 1165 Reviews
Visit the historic heart of French Canada on this day trip from Montreal to Quebec City. On your sightseeing tour, see famous landmarks including Place ... Read more
Location: Montreal, Canada
Duration: 12 hours (approx.)