Ontario and British Columbia are the two largest producers of wine in all of Canada with Quebec coming up in third place. With France being the top producer of wine in the world of course Canada's predominately French province would have a keen interest in it as well. While visiting Montreal, make sure you to stop to enjoy some of Canada's and the world's best wines for yourself. Here are some tips and suggestions for 
In the city of Montreal there are many great bars to try some wine tasting and restaurants with large wine cellars for meal pairings. Buvette Chez Simone is rated as being the number one wine bar in the city and is popular for their cheese and meat sharing platters. They don't take reservations so make sure you show up early as they tend to be busy every night of the week. If you can't get a spot there you might want to also check out Le Comptoir Charcuteries et Vins with a great diverse wine list or Accords which features a nice outdoor courtyard, great for the summer months.
If you want to learn a bit about the wine and see where it comes from while you enjoy it you might also enjoy a Winery Tasting & Tour outside of the city. There are a couple tours available from the city like the popular
small-group Quebec wine tour from Montreal, which includes an optional gourmet lunch and cheese pairing
. You can take a full or half day tour where you will take exclusive tours of 2 – 3 vineyards. While on tour you can meet the winemakers themselves and along with tasting the wines you will also learn a bit about how to taste, how to distinguish the flavors and more.
Canada is also popular for a wine known as Ice Wine made from grapes that froze in early winter while still on the vine. Sweeter than regular wine it is mostly enjoyed with dessert. Trying a few Ice Wines when you visit Canada is a must. Take
the Ice Wine tour from Montreal with Exclusive winery access
to enjoy some of the best along with learning how to make your very own ice wine cocktails, and learning some of the secrets of the Ice Wine making process.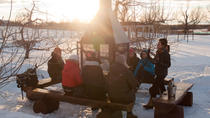 13 Reviews
Delight your taste buds with this small-group wine-tasting tour from Montreal to Quebec wine country. This tour is a unique winter experience that reveals the ... Read more
Location: Montreal, Canada
Duration: 9 hours (approx.)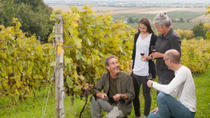 58 Reviews
Delight your taste buds on this small-group wine-tasting tour from Montreal to Quebec wine country. Choose either the afternoon tour or the full-day tour, and ... Read more
Location: Montreal, Canada
Duration: Varies