26 Reviews
Address:

Kremlin, Moscow, Russia

Hours:

Fri-Wed 10am - 5pm, Closed Thursdays

Admission:

350 RUB
Kremlin Tours
One of the most iconic sights in all of Russia, Moscow's Kremlin is a massive fortress sitting along the banks of the Moskva River. First the seat of the Russian Grand Dukes, then the residence of the Romanov tsars and later home to Soviet leaders like Lenin and Stalin, the Kremlin today serves as the official residence of the president of the Russian Federation. Despite that, much of the complex is open to the public on a daily basis, including the bell tower, several cathedrals, the Patriarch's Palace and the famous Armoury.
Once the tallest building in Russia, the Ivan the Great Bell Tower offers great views around the city and the Assumption Cathedral, the Archangel's Cathedral and the Annunciation Cathedral surrounding the Kremlin's Cathedral Square offer visitors a glimpse into Russian religious life. The Armoury, though, is what will take your breath away, with its impressive collection of jewels, armor, weapons and ancient Russian relics.
Practical Info
Located in the heart of Moscow, the Kremlin is easily accessible by Metro or even by foot if you are staying near the center. The closest Metro stations are Borovitskaya (Боровицкая) and Biblioteka imeni Lenina (Библиоте́ка и́мени Ле́нина). Admission to the Armoury or the Ivan the Great Bell Tower is at specific times only and ticket prices overall vary depending on how much of the Kremlin you wish to explore.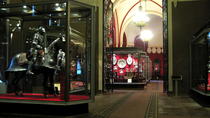 Discover the Armoury Chamber of the Kremlin. Enjoy a dazzling array of treasures from the 4th to the 20th century including jewels, arms and Russian Easter ... Read more
Location: Moscow, Russian Federation
Duration: 90 minutes (approx.)
Visit the Kremlin's Cathedral Square with this entrance ticket that allows you to see Ivan the Great Bell Tower up close from the square. You can also catch ... Read more
Location: Moscow, Russia
Duration: 1 hour 30 minutes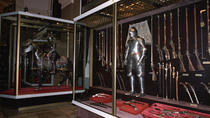 3 Reviews
A visit to Moscow will not be complete without a full tour of the Moscow Kremlin.  Visit the Kremlin Cathedrals, Armory Chamber and Diamond Fund and explore ... Read more
Location: Moscow, Russian Federation
Duration: 3 hours 30 minutes (approx.)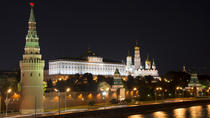 11 Reviews
Learn about the history of Moscow and Russia from an experienced guide on a 4-hour comprehensive walking tour. You will visit the most notable city ... Read more
Location: Moscow, Russian Federation
Duration: 4 hours (approx.)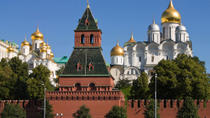 15 Reviews
Visit three opulent highlights of Moscow's Kremlin — the Armory, Diamond Fund Exhibition and Assumption Cathedral — on a 3-hour morning walking tour! After ... Read more
Location: Moscow, Russian Federation
Duration: 3 hours (approx.)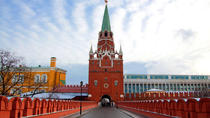 3 Reviews
Let's visit Kremlin with your local private guide! You'll see a real political, historical and holy center of Moscow and even Russia in your walking ... Read more
Location: Moscow, Russian Federation
Duration: 3 hours (approx.)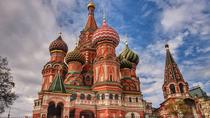 2 Reviews
Private walking tour to the Moscow most iconic places.  - Embark on an atmospheric city tour of Moscow with a local guide, and discover this majestic ... Read more
Location: Moscow, Russian Federation
Duration: 4 hours (approx.)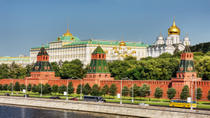 13 Reviews
Experience the highlights of Moscow on this private 6-hour walking tour, perfect for travelers who don't have much time to explore the city on their own. See ... Read more
Location: Moscow, Russian Federation
Duration: 6 hours (approx.)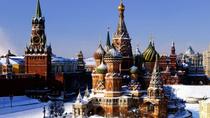 This unique tour is dedicated to the revolution which not only changed Russia, but the world. Discover the all the secrets of the most defining moment of the ... Read more
Location: Moscow, Russian Federation
Duration: 7 hours (approx.)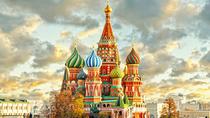 1 Review
Walk along the Red Square where the card of Moscow and even of all the country is – St.Basil's Cathedral with its colorful domes. Quite near the cathedral is ... Read more
Location: Moscow, Russian Federation
Duration: 4 hours (approx.)