Top Historical Sights in Moscow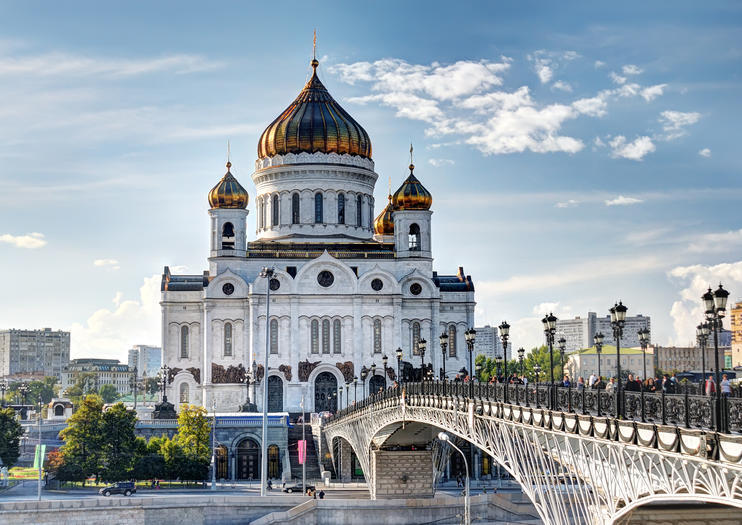 As a city that has been around for more than 800 years, Moscow has plenty of history. Tucked beneath steel and glass skyscrapers, historic sights can be found throughout Russia's capital. Here are a few sights in Moscow that shouldn't be missed.
The Kremlin
The Moscow Kremlin has been the political center of the city for centuries and remains the official residence of the Russian president today. Take a tour to hear the history and expert narration on its several cathedrals, Ivan the Great Bell Tower, and the Armoury, which displays the Imperial Crown of Russia, the Orlov (or Orloff) Diamond, and a collection of Faberge eggs.
Red Square
Sitting adjacent to the Kremlin, Red Square has long held a significant place in Russian history, first as a marketplace and later as a popular site for public proclamations and ceremonies, religious processions and coronations. Surrounding Red Square, you'll find the famous GUM department store, St. Basil's Cathedral, the Kazan Cathedral, the State Historical Museum and Lenin's Mausoleum. Most Moscow highlight tours include a stop here.
St. Basil's Cathedral
Built to celebrate Ivan the Terrible's conquest of Kazan, St. Basil's Cathedral may be one of the most iconic sites in Russia. With its colorful façade and onion-shaped domes, the cathedral is completely unique in Russian history. You'll hear more about it on a small-group or private walking tour of the city.
State Historical Museum of Russia
The State Historical Museum traces centuries of Russian history from the Stone Age through the 19th century. It boasts more than four million objects, including the largest coin collection in Russia, a Greek sarcophagus from the 4th century BC, gold artifacts from the Scythians and a replica of the Ivan the Terrible's throne.
Kitay Gorod neighborhood
The neighborhood adjacent to Red Square known as Kitay Gorod is one of the oldest quarters in Moscow, settled in the 13th century. Stroll along the three main streets of Kitay Gorod to see a variety of 16th and 17th century churches, as well as the Romanov house, built by the grandfather of Mikhail Romanov, the first of the Romanov tsars. See it on the Alternative Moscow tour, which focuses on the spooky and sinister side of the city.
Read More
Show Less
Moscow Tours & Activities (6)
Did you know?
You can reserve your spot today and pay when you're ready.
You can reserve your spot today and pay when you're ready.
Learn more
Private Day Trips
Discover Russia's fascinating military history on a private 4-hour tour of the Kubinka Tank Museum from Moscow. With a knowledgeable private guide, explore the museum home to thousands of military tanks that date back to World War II. See original battlefield tanks, captured Nazi vehicles and realistic tank replicas while adapting your itinerary to suit your interests. Receive the undivided attention of your guide on this private tour.
Price varies by group size
---
Walking Tours
See the world-famous sights of Russia's capital by foot on this 2-hour Moscow city tour. With an expert guide, walk from one iconic landmark to another as you hear about Moscow's long and turbulent history. Stroll around the huge, cobbled space of Red Square to see the Kremlin, Lenin's Tomb and onion-domed St Basil's Cathedral; pass the legendary Bolshoi Theatre, and amble around the ornamental Alexandrovsky Garden, home to the Tomb of the Unknown Soldier. Numbers are limited to 10 on this small-group tour for a more personalized atmosphere.
---
Cultural Tours
Tolstoy's War and Peace or Anna Karenina might be impenetrable to many, but his Khamovniki country estate is wide open to the public. Take this literary walking tour and ramble upon the same paths he once did; contemplate existence in his garden; or just get a bit of exercise while exploring his sprawling and perfectly preserved 9,340 square-meter "country" estate. Tolstoy lived here with his family from 1882 to 1901, but if you seldom visit Moscow, then don't miss a rare chance to see how their literary lion lived and worked.
---
Historical Tours
Explore what was once a bastion of Soviet secrecy — the Moscow Kremlin — on this express tour. Accompanied by an expert guide, stroll around the walled complex, once Moscow's ancient citadel, to see its courtyards, churches and palaces. Hear tales of medieval Tsars and the Russian Orthodox church as you view the Grand Kremlin Palace, Senate Palace and Ivan the Great Bell Tower; see the colossal Tsar Bell, and visit Archangel's Cathedral, the burial place of Russian royals and rulers. The tour is limited to 25 people for a small-group atmosphere.
1 hour&nbsp30 minutes

Free Cancellation
---
Half-day Tours
Enhance your sightseeing experience of Moscow on a private 6-hour walking tour of the city's architectural and historical highlights. Accompanied by a knowledgeable private guide, visit monumental landmarks like the Bolshoi Theater, the former KGB headquarters and St Basil's Cathedral. Gain fascinating insight into the historical heritage of the unique capital city and tour the Moscow Kremlin, former residence of exuberant Russian tsars. Relish the flexibility of this private tour and receive undivided attention from your expert guide. 
Price varies by group size
---
Theaters
Delight in the opulent interior of the Bolshoi Theatre, one of Moscow's most impressive cultural institutions, on a private 2-hour tour of the glamorous building. With a knowledgeable guide, discover the ornately decorated interiors and gilded ceilings of the premium venue and hear of how first-class ballets and operas have been performed here for more than 250 years. Delve into the dramatic history of this national treasure and receive the undivided attention of your guide on this private tour. 
Price varies by group size
---