Hiking, bushwalking and trekking are called "tramping" in New Zealand, one of the top destinations in the world to strap on your walking boots and follow a trail.

The country is crisscrossed by a network of tracks linked by overnight huts, including the iconic Milford, Routeburn and Abel Tasman tracks.

You don't have to be a mountaineering expert to hike around Mount Cook. Several easy walks lead from Mount Cook Village, where the Hermitage Hotel is your base for Mount Cook excursions.

For a really short walk, try the 10-minute forest wander known as the Bowen Bush Walk, or the 30-minute Glencoe Walk to a Mt. Cook lookout above the Hermitage. The hour-return stroll known as the Governors Bush Walk takes in a stand of silver beech and climbs to a lookout.

To stretch your legs on a two-hour return walk, follow the trail to Kea Point, leading to a panoramic platform overlooking Mt. Cook, Mt. Sefton and the Hooker Valley. Expect stupendous views, and keep an eye out for the native plant life along the way.

A three- to four-hour return walk follows part of the Kea Point track en route to Sealy Tarns, for more sublime Hooker Valley views and stunning views of Mt. Cook.

The Tasman Glacier can also be viewed on foot, via the 40-minute return Tasman Glacier View track from the Hermitage.

To learn about the landscape and country while you walk, guided walks explore the Hooker Valley and Tasman Glacier. Longer overnight walks encounter high altitudes and difficult terrain, and should only be attempted if you are a mountain goat or have extreme mountaineering experience.

Even on the shorter walks, you'll need to take care and be prepared as the weather out here in the Southern Alps can change dramatically and quickly.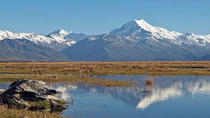 26 Reviews
Travel by road on a full day tour from Christchurch to Mount Cook, Australasia's highest mountain. Along the way you'll pass through the spectacular scenery ... Read more
Location: Christchurch, New Zealand
Duration: 13 hrs