To the native Maori, towering Mt. Cook was known by a single name: Aoraki—better known as "Cloud Piercer." It's a name that makes sense, given that this 12,316-foot spire can often be the sole peak of the Southern Alps which penetrates the clouds. More than just tall, Mt. Cook is also famously rugged, with the first ascent of the cloud-piercing mountain not recorded until 1894. Sir Edmund Hillary once trained on these slopes for his record-setting feat at Everest, and even today, climbing Mt. Cook is only attempted by the most seasoned of mountaineers.

Despite its degree of difficulty, however, travelers to New Zealand still have the chance to hover near the icy summit. Soar above the surrounding glaciers and watch as it pierces the clouds. By taking part in a helicopter tour, not only can you get up close and personal with this soaring, sacred mountain, but you will enter a landscape that has only been visited by a handful of intrepid souls.

Many of the helicopter tours of Mount Cook depart from the Glentanner base in Mount Cook National Park. While there are also tours from the town of Fox Glacier that make a lap around Aoraki, departing from Glentanner ensures the most time for circling the Southern Alps. The morning hours are often best for clear, cloudless conditions, and prices can vary depending upon the time you spend in the air on the tour.

Regardless of which tour you choose, however, you'll want to remember warm clothing and footwear in the event of a high-altitude landing. During helicopter tours of Mout Cook, it's common for the pilot to land the chopper on a flat patch of snow in the interior of the range. Here, high on the slopes of some of the world's most dramatic peaks, you are engulfed in silence and treated to vistas that movies and postcards can't match. Lakes, glaciers, peaks, and crags are all within your field of view, and you of course get the chance to join the mountain by standing up and piercing the clouds.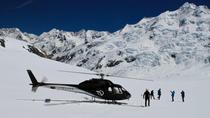 5 Reviews
See the Aoraki Mt Cook National Park on this 35-minute scenic flight tour. Enjoy a stunning scenic flight up the Tasman Valley, through the Hochstetter ... Read more
Location: Mount Cook National Park, New Zealand
Duration: 35 minutes (approx.)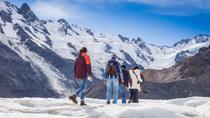 4 Reviews
Enjoy a scenic helicopter flight (40-minute flight time) from Mt Cook to Tasman Glacier followed by an exhilarating 2-hour guided walk on the glacier itself. ... Read more
Location: Mount Cook, New Zealand
Duration: 3 hours (approx.)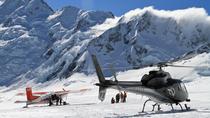 1 Review
Join this tour for the unique opportunity to fly in both a Ski Plane and Helicopter! Flying through the remarkable Tasman Valley and landing on the snow ... Read more
Location: Mount Cook National Park, New Zealand
Duration: 45 minutes (approx.)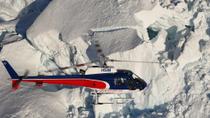 14 Reviews
The premier flight over this amazing alpine region with vast snowfields, glaciers and a spectacular view of New Zealand's highest peak, Aoraki/Mount Cook. Fly ... Read more
Location: Mount Cook, New Zealand
Duration: 40 minutes (approx.)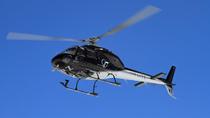 1 Review
Soar through the sky on this 25-minute scenic helicopter experience through Aoraki Mt Cook National Park. Sit back and take in the stunning scenery around you ... Read more
Location: Mount Cook National Park, New Zealand
Duration: 25 minutes (approx.)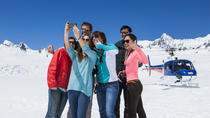 18 Reviews
Depart Fox Glacier Village, fly over the legendary Fox Glacier and snowfields and watch the crevasses and ice forms race by below you. Land in the snow above ... Read more
Location: Fox Glacier, New Zealand
Duration: 30 minutes (approx.)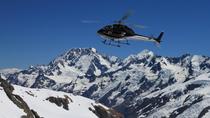 Soar through the sky on this 55-minute scenic Helicopter experience through the Mt Cook and Westland National Parks. Includes a snow landing on either the Fox, ... Read more
Location: Mount Cook National Park, New Zealand
Duration: 55 minutes (approx.)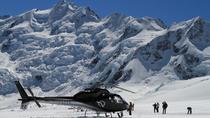 Join this 45-minute Helicopter scenic experience through Aoraki Mt Cook National Park for a helicopter tour like no other! Sit back, relax, and soak in the ... Read more
Location: Mount Cook National Park, New Zealand
Duration: 45 minutes (approx.)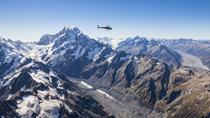 7 Reviews
This short scenic flight option is ideal if you are looking for the opportunity to touch snow and experience the thrill of a helicopter flight. Sweep through ... Read more
Location: Mount Cook, New Zealand
Duration: 20 minutes (approx.)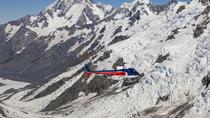 4 Reviews
Experience this magnificent alpine environment with a high scenic flight over the Ben Ohau mountains. Watch as the landscape changes from low rolling hills, ... Read more
Location: Mount Cook, New Zealand
Duration: 35 minutes (approx.)