620 Reviews
Address:

Linderhof 12, Ettal 82488, Germany

Hours:

Open daily Apr - Oct 15: 9am - 6pm, Oct 16 - Mar: 10am - 4pm

Admission:

Adults: € 8
Linderhof Castle Tours
Ludwig II had a habit of designing palaces after his idols. In the case of Linderhof Palace, the inspiration was the Sun-King Louis XIV and Versailles as he built up the "King's Cottage". Sun decor, hall of mirrors, and a smaller scale version of Versailles Ambassador's staircase are testament to the king's admirations. As far as royal palaces go, Linderhof Palace has a private atmosphere with only four rooms that actually served a purpose.
The gardens surrounding Linderhof Palace are considered some of the most beautiful in the world, combining the formal elements of Baroque style and Italian Renaissance gardens with landscaped sections in the English style. There are also a few unique structures apart of the palace park including the Venus grotto, Hunding's Hut, Gurnemanz Hermitage, and the Moroccan House.
Practical Info
Due to the many precious works of art housed at Linderhof Palace, no photography or filming is allowed. Linderhof Palace is situated in the Graswang Valley, near the village of Ettal. By public transportation, the palace is accessible by train to Oberammergau and a bus connection to Linderhof.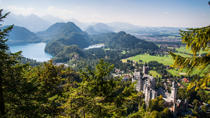 377 Reviews
Visit the fairytale castles of Neuschwanstein and Linderhof on this day trip from Munich. Traveling by luxury coach — complete with Wi-Fi, panoramic windows ... Read more
Location: Munich, Germany
Duration: 10 hours 30 minutes (approx.)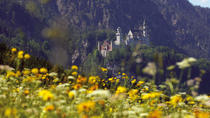 Enjoy a private 8-hour day tour from Fuessen to Neuschwanstein Castle, Oberammergau and Linderhof Castle. Start your trip at 9am from Fuessen City Center and ... Read more
Location: Füssen, Germany
Duration: 8 hours (approx.)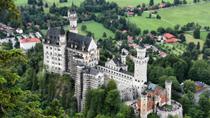 4005 Reviews
King Ludwig II built two of his dream castles, Neuschwanstein and Linderhof, hidden away in the Bavarian mountains. This trip from Munich shows you both of ... Read more
Location: Munich, Germany
Duration: 10 hours 30 minutes (approx.)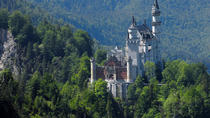 17 Reviews
This tour will be an experience that you will never forget, providing everything you are looking for on your holiday: castles, sightseeing, nature, The Alps ... Read more
Location: Füssen, Germany
Duration: 8 hours (approx.)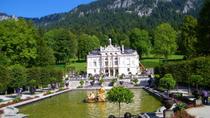 24 Reviews
Overnight in castle country on this two day tour from Munich. Your first stop is the elegant Linderhof. King Ludwig's favorite castle, which was built between ... Read more
Location: Munich, Germany
Duration: 2 days (approx.)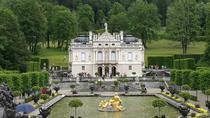 Sights covered with your personable guide on your private mini van tour lasting 11 hours begins with a hotel pickup at 8.30am before heading to Ettal Monastry, ... Read more
Location: Munich, Germany
Duration: 11 hours (approx.)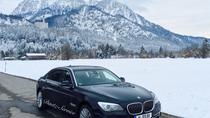 1 Review
Enjoy this full-day private tour to visit 3 different castles in one day. The tour will begin in Munich and will include 3 castle visits. Your first visit will ... Read more
Location: Munich, Germany
Duration: 8 hours (approx.)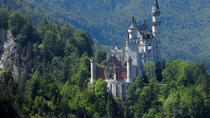 2 Reviews
Immerse yourself in a land of fairy tales on this daylong tour of some of Bavaria's best scenery and royal sites. Leaving from Munich 8:00am in front of ... Read more
Location: Munich, Germany
Duration: 9 hours (approx.)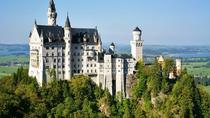 Meet us in the center of Munich before taking a luxury coach to Oberammergau where you can catch up on all year round Christmas shopping in one of the many ... Read more
Location: Munich, Germany
Duration: 11 hours (approx.)
Two of the most precious jewels of Bavaria, the castle of Linderhof and the village of Oberammergau can be seen during this late-departure full day tour from ... Read more
Location: Munich, Germany
Duration: 8 hours 30 minutes (approx.)