Marienplatz
Marienplatz serves as Munich's city center with a variety of historic town hall structures and shopping markets. At the center of the square, the Mariensaule, the column of St. Mary, exhibits a statue of the Virgin Mary and the "four putti" symbolizing the city's triumph over war, pestilence, famine, and heresy.
Visitors flock to Marienplatz at 11 am, 12 noon, and 5 pm each day to watch the famous animated Glockenspiel (carillon) in the New Town Hall made of 43 bells and 32 figures. The best views of the show can be found on the top floor of the Hugendubel bookstore and the Cafe Glockenspeil.
Practical Info
As the heart of old town Munich, Marienplatz possesses the charm of a historic square and a trip up the Neues Rathaus tower offers the best panoramic views of Munich, on clear days you may even catch a glimpse of th Alps. From markets to churches, the iconic symbols of Munich are all easily accessible from the "Marienplatz" subway station.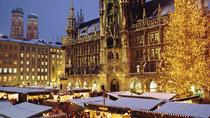 38 Reviews
Get swept up in the festive atmosphere of the Christmas markets in Munich, Germany, on this family-friendly tour. Your guide will explain the history and ... Read more
Location: Munich, Germany
Duration: 2 hours (approx.)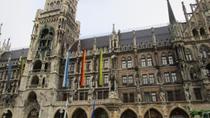 4 Reviews
Experience a walking tour through central Munich focusing on the City's association with Adolf Hitler and the Nazi party. The tour draws together modern day ... Read more
Location: Munich, Germany
Duration: 2 hours (approx.)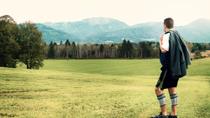 Enjoy a relaxing 5-hour beer and food tour through the historic center of Munich with a Bavarian guide. Experience the Bavarian culture at its best from up ... Read more
Location: Munich, Germany
Duration: 5 hours (approx.)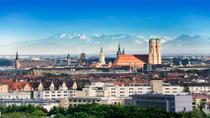 Explore the vibrant Bavarian city of Munich on a relaxing day trip from Frankfurt! You'll travel by luxury coach to Munich, where you'll enjoy a guided ... Read more
Location: Frankfurt, Germany
Duration: 14 hours (approx.)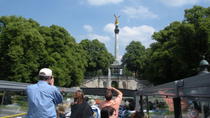 862 Reviews
Explore Munich with a 24h or 48h ticket aboard an open-top double-decker bus. See all the main sights as you hop on and hop off at conveniently located stops ... Read more
Location: Munich, Germany
Duration: Varies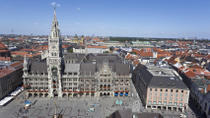 15 Reviews
See the must-visit historical attractions and infamous sites connected with the Third Reich on a private 2.5-hour walking tour of Munich's Old Town. View key ... Read more
Location: Munich, Germany
Duration: 2 hours 30 minutes (approx.)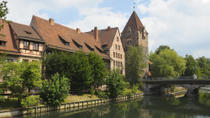 1 Review
Spend a day in the must-see Bavarian cities of Munich and Nuremberg on this Super Saver from Frankfurt, and save money, too! In the morning, visit top Munich ... Read more
Location: Frankfurt, Germany
Duration: 14 hours (approx.)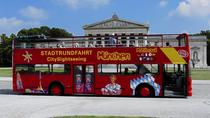 8 Reviews
Travel Munich at your own pace on a double-decker bus with a 24 or 48 hour ticket. Discover the highlights of Munich such as Nymphenburg Palace, Olympic Park ... Read more
Location: Munich, Germany
Duration: Flexible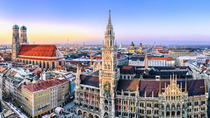 23 Reviews
Explore Old Town Munich with a knowledgeable guide on this 2-hour walking tour, perfect for first-time visitors. Starting from Munich's central station, visit ... Read more
Location: Munich, Germany
Duration: 2 hours (approx.)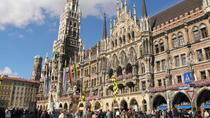 13 Reviews
Explore Munich Old Town by foot on a 2.5-hour private tour, and see the city's historical highlights! As you walk between sites, hear fun facts and history ... Read more
Location: Munich, Germany
Duration: 2 hours 30 minutes (approx.)