There's more to Munich than Oktoberfest – whether it's beer halls, history, arts, or sport, Germany's second largest city has plenty to keep visitors occupied. It's located within some of the world's most beautiful scenery: alps, lakes, and truly spectacular castles.

Day 1: Sport, spires and shopping in Munich

Orientate yourself by riding the hop on hop off bus, pedaling around on a bicycle, or walking on foot. Walking is recommended to appreciate the amazing architecture. Find the Nationaltheater in Max-Joseph-Platz, check out the gargoyles and climb to the top of neo-Gothic Neues Rathaus or St. Peterskirche towers for a bird's eye view of the city. The Nazi party was born in Munich, and a fascinating walking tour charts the rise of Hitler from struggling artist to the most notorious dictator in history. Grab a bite to eat at the Viktualienmarkt, then head to Maximilianstrasse or Kaufingerstrasse for shopping. The athletically-inclined can swim and ice-skate at the Olympia Park, built for the 1972 summer Olympics, while football fans should head straight to the FC Bayern Football Stadium.
Day 2: Munich Museums and Bavarian Beer!
Go behind the scenes at the BMW museum, and see the factory's assembly line in action. The Deutsches Museum is a wonderful place to get lost with models of atoms, miniature gas refineries, and electricity-generating bikes. Visit the Neue Pinakothek, the toy (Spielzeugmuseum), and potato (Kartoffelmuseum) museums. Beer halls are quintessentially Munich, so try them for yourself on a night tour. The Hirschgarten even has a mini zoo with deer and boar. Beer, food, and oompah music? Now that's my kind of history lesson.
Day 3: Castles, Lakes and Mountains
The shimmering white towers of Castle Neuschwanstein are instantly recognizable, as Bavaria's fairytale King Ludwig II built his dream castles in the mountains. On a more somber note, the Berchtesgaden Eagle's Nest was Hitler's mountain retreat and southern headquarters of the Nazi party, while pretty artist town Dachau was the location of an infamous WWII concentration camp. While interesting for history buffs, for a more family-friendly trip go to Salzburg, Swarovski's Crystal World, historic Nuremberg, or along the Romantic Road.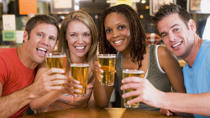 614 Reviews
Prost! Munich is the beer capital of the world. Home of the beer-halls, beer-gardens, beer-cellars and the legendary Oktoberfest. They've been brewing 'liquid ... Read more
Location: Munich, Germany
Duration: 3 hours 30 minutes (approx.)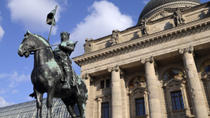 649 Reviews
Many of Munich's buildings carry the secrets of a dark past. Just six decades ago, Munich bore the official title, Hauptstadt der Bewegung, the Capital of the ... Read more
Location: Munich, Germany
Duration: 2 hours 30 minutes (approx.)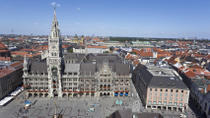 21 Reviews
See the must-visit historical attractions and infamous sites connected with the Third Reich on a private 2 hour walking tour of Munich's Old Town. View key ... Read more
Location: Munich, Germany
Duration: 2 hours (approx.)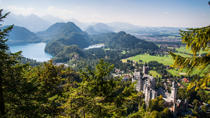 381 Reviews
Visit the fairytale castles of Neuschwanstein and Linderhof on this day trip from Munich. Traveling by luxury coach — complete with Wi-Fi, panoramic windows ... Read more
Location: Munich, Germany
Duration: 10 hours 30 minutes (approx.)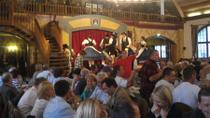 128 Reviews
Passing by the beautifully illuminated monuments, fountains, and buildings of Munich, you will arrive at the Hofbrauhaus. At the world famous Hofbrauhaus you ... Read more
Location: Munich, Germany
Duration: 4 hours (approx.)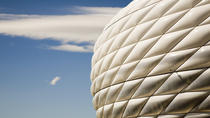 52 Reviews
Are you a fan of FC Bayern Munich? After a city tour of Munich, we will visit the FC Bayern grounds and experience the Allianz Arena, constructed for the 2006 ... Read more
Location: Munich, Germany
Duration: 4 hours (approx.)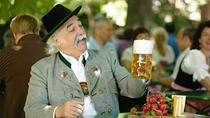 32 Reviews
Whether you're in Munich for Oktoberfest or just want to experience its famous beer scene, this behind-the-scenes beer tour will give you the inside scoop of ... Read more
Location: Munich, Germany
Duration: 3 hours 30 minutes (approx.)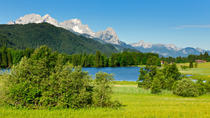 63 Reviews
Visit the Germany's highest peak, the Zugspitze, soaring to 9,788 feet (2,962 meters). Take the cable car up and the cogwheel train back down to appreciate the ... Read more
Location: Munich, Germany
Duration: 8 hours (approx.)
5 Reviews
Experience the best of Munich – from top attractions to its legendary beer – with this Munich Super Saver that combines two tours at a discounted price! Spend ... Read more
Location: Munich, Germany
Duration: 1 day (approx.)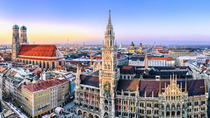 65 Reviews
Explore Old Town Munich with a knowledgeable guide on this 2-hour walking tour, perfect for first-time visitors. Starting from Munich's central station, visit ... Read more
Location: Munich, Germany
Duration: 2 hours (approx.)