The inspiration for Sleeping Beauty's castle at Disneyland, Neuschwanstein was built by King Ludwig II in the 19th century. Capture the grandeur of this architecture and picturesque mountain scenery on a visit to these extraordinary castles, the legacy of Bavaria's fairytale King.
Hidden in the seclusion of the Bavarian mountains, King Ludwig II built two of his dream castles, Neuschwanstein and Linderhof.
Elegant Linderhof, King Ludwig's favorite and the smallest of three royal castles, is built in French Rococo style with a fantastic grotto and Moorish pavilion.
On approaching Castle Neuschwanstein, it quickly becomes clear why this magnificent neo-Romanesque style castle is the most famous in the world. The shimmering white towers of the castle among the clouds are instantly recognizable, evoking memories of magical fairytale lands.
Tour ethereal Neuschwanstein Castle from the best vantage points: the lake, the postcard-perfect aerial view of equally beautiful Hohenschwangau Castle, and the waterfall gorge. This glorious folly was built in the 19th century by the famed "mad" King Ludwig II, a man intoxicated by myth and who himself became a legend. Learn the engaging story of King Ludwig's renowned and tragic reign, turbulent times, and the obsession that drove him to build his fantasy castle in the mountains and ultimately destroyed him.
Oberammergau is world-famous for its woodcarvers, richly painted houses, and the Passion Play. During the time of the bubonic plague, the people of Oberammergau swore an oath to perform the "Play of the Suffering, Death, and Resurrection of Our Lord Jesus Christ" every ten years if they were spared – and have been faithfully performing it ever since.
Another fantastic result of King Ludwig II's vivid imagination is the Castle of Herrenchiemsee on Chiemsee, the largest Bavarian Lake. A replica of the Palace of Versailles, this was the biggest, most expensive, and  final castle of King Ludwig II.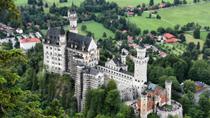 3623 Reviews
King Ludwig II built two of his dream castles, Neuschwanstein and Linderhof, hidden away in the Bavarian mountains. This trip from Munich shows you both of ... Read more
Location: Munich, Germany
Duration: 10 hours 30 minutes (approx.)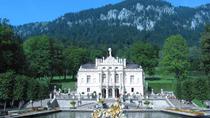 10 Reviews
See the best of Bavaria on a day trip from Füssen, led by an expert local guide! During tours of the region's two famous stunners – Neuschwanstein Castle ... Read more
Location: Füssen, Germany
Duration: 9 hours (approx.)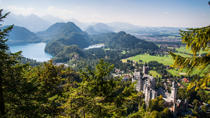 247 Reviews
Visit the fairytale castles of Neuschwanstein and Linderhof on this day trip from Munich. Traveling by luxury coach — complete with Wi-Fi, panoramic windows ... Read more
Location: Munich, Germany
Duration: 10 hours 30 minutes (approx.)
47 Reviews
Take a boat ride to the island of Herreninsel on Chiemsee, the largest Bavarian Lake. Here you will find another fantastic result of King Ludwig II's vivid ... Read more
Location: Munich, Germany
Duration: 10 hours 30 minutes (approx.)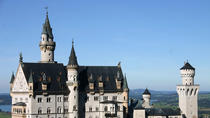 1543 Reviews
The enchanting old-world town of Fussen lies in the foot hills of the Alps, framed by one of the most breathtaking natural settings in the world. Traveling by ... Read more
Location: Munich, Germany
Duration: 9 hours (approx.)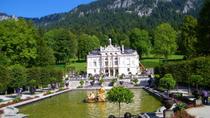 22 Reviews
Overnight in castle country on this two day tour from Munich. Your first stop is the elegant Linderhof. King Ludwig's favorite castle, which was built between ... Read more
Location: Munich, Germany
Duration: 2 days / 1 night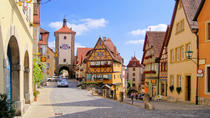 31 Reviews
Travel along the most picturesque stretch of road in Germany on this multi-day tour from Munich. You'll marvel at the delightful castles of Linderhof and ... Read more
Location: Munich, concludes Frankfurt, Germany
Duration: 3 days / 2 nights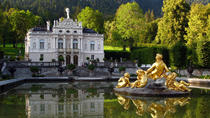 9 Reviews
Enjoy the scenic landscape and picturesque towns along Germany's Romantic Road on a four-day independent coach tour from Munich to Frankfurt. You'll visit the ... Read more
Location: Munich, Germany
Duration: 4 days / 3 nights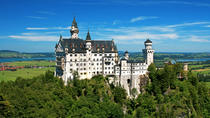 11 Reviews
Germany's Romantic Road offers the most picturesque and magnificent scenery on Earth. Travel along this stretch of road on this multi-day tour from Munich and ... Read more
Location: Munich, concludes Frankfurt, Germany
Duration: 4 days / 3 nights
Visit two of King Ludwig II's extravagant abodes – Neuschwanstein Castle and Herrenchiemsee Palace – on this exciting Super Saver from Munich! Combining two ... Read more
Location: Munich, Germany
Duration: Varies