From the southern German city of Munich the Austrian border is just one and a half hours away through lilting Bavarian countryside. And once on the other side, you find yourself in the beautiful Baroque city of Salzburg, nuzzling the alpine foothills along the river Salzach.

Salzburg is one of the great centers of classical music, a phenomenon attributable above all to one man: Wolfgang Amadeus Mozart. The divinely-gifted composer was born here in 1756 and many of the incomparable treasures which flowed from his quill were written and premiered here. You will see reminders of the maestro all over the city, from his birth place to the magnificent cathedral where he was baptized and the childhood home where the prodigy first started composing. And everywhere you go you'll see the "Mozartkugel" chocolates which bear his image.

Mozart would still recognize much of the UNESCO World Heritage-listed old town, but if you find parts of it naggingly familiar, that's more than likely due to the 1965 film The Sound of Music. The real-life von Trapp family really did hail from Salzburg but many Austrians will draw a blank when you mention the film. Nonetheless you can see numerous locations, including the gardens of the Mirabell Palace and the huge, forbidding fortress which hovers above the city like an anxious mother (but if you're anxious about all those stairs, you can always take the funicular).

Salzburg's main museum relates the city's fascinating history, while the Residenzgalerie displays many of its great art treasures. Away from the town center, Schloss Hellbrunn is a testament to refined aristocratic taste. And all around the city, the hills are alive with the sound of…well, cows mainly. But you can still head for the sub-alpine heights and scenic lakes to recreate your own Julie Andrews twirl.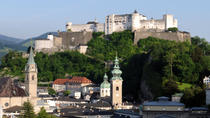 375 Reviews
Leave Munich aside for the day to explore Salzburg and the idyllic Lake District. You'll travel in the comfort of a motor coach, escorted by a professional ... Read more
Location: Munich, Germany
Duration: 11 hours 30 minutes (approx.)
44 Reviews
Combine two best-selling day trips from Munich to see the best of Bavaria and a slice of Austria over two days. The first day, visit the Austrian city of ... Read more
Location: Munich, Germany
Duration: 2 days (approx.)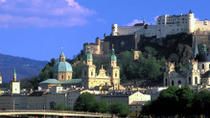 1260 Reviews
Take a day trip to the home town of Wolfgang Amadeus Mozart on a guided full-day rail tour from Munich to Salzburg. Considered one of the jewels in the crown ... Read more
Location: Munich, Germany
Duration: 10 hours (approx.)

76 Reviews
Discover the historical side of Salzburg on foot! Travel back in time on this 2-hour historical walking tour through the city. Explore Salzburg's Baroque old ... Read more
Location: Salzburg, Austria
Duration: 2 hours (approx.)