Mykonos RECOMMENDATIONS See all
Ancient Sights in Mykonos
By Viator, October 2013
No reviews, be the first!
With its reputation as the party island of Greece, Mykonos is usually identified with late-night clubbing and the infamous Paradise Beach, but it is also the island of adorable whitewashed villages and shady cobbled lanes, cobalt-blue topped churches and windmills.

One of the largest (and certainly the most stylish) of the Cyclades Islands, Mykonos is a 5.5 hour ferry trip from Athens and a popular stop-off for cruise liners. It's a joy to explore by private guided tour and all visitors should see the extraordinary Byzantine-Christian church of Panagia Paraportiani, which is one of an amazing 400 places of worship on the island. Made up of five tiny white-washed chapels molded together, it perches on the water's edge in the old quarter of Mykonos town; stand with your back to it at dusk for one of the world's most wonderful sunsets.

The real ancient treasures of the Cyclades lie, however, not on Mykonos but on minute, uninhabited Delos, an easy 30 minutes away by boat and birthplace of Apollo and Artemis in Greek mythology. For thousands of years Delos was second only to Delphi as the most sacred site in Greece. Although the island can be visited without a guide, there is little there in the way of interpretation of the sacred ruins so take a sunhat, water and a picnic for a private, guided walking tour of the holy sanctuary.

Leading from the harbor, the immense ancient site is liberally scattered with blocks of stone, fallen arches, fractured statues and cracked paving. It encompasses many temples, crumbling harbors, a market place, an amphitheater and even the remains of luxurious villas. Precious artifacts including headless torsos, the marble Avenue of Lions, the Temple of Apollo and amazingly intact mosaic floors are preserved thanks to the hot, arid conditions on the island. It is hard to comprehend that some of these ruins date from the eighth century BC, when Delos was the religious center of the Cyclades and also the secular banking center for the whole of the eastern Mediterranean, supporting a thriving town of over 30,000 maritime traders.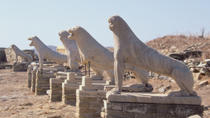 Discover the legends and beauty of Delos on a half-day tour, led by a private local guide. After a boat ride from Mykonos, explore the island's sacred ruins ... Read more
Location: Mykonos, Greece
Duration: 4 hours (approx.)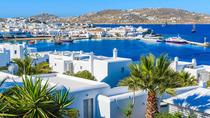 5 Reviews
When your cruise docks in the Mykonos port, see the best of the town on a private shore excursion. Enjoy some of the best views of Mykonos and its surroundings ... Read more
Location: Mykonos, Greece
Duration: 4 hours (approx.)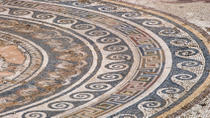 1 Review
When you arrive in port in Mykonos, head out on a private shore excursion to the island of Delos, where you'll discover its legends and its beauty. Your ... Read more
Location: Mykonos, Greece
Duration: 4 hours (approx.)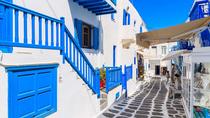 4 Reviews
While you're in port in Mykonos, head out on a private shore excursion to enjoy the best of the island, from traditional houses to historical wonders. Explore ... Read more
Location: Mykonos, Greece
Duration: 2 hours 30 minutes (approx.)