Mykonos RECOMMENDATIONS See all
Mykonos for Cruise Visitors
By Viator, September 2013
No reviews, be the first!
As the most sophisticated of the Cyclades Islands, Mykonos is a popular stop-off for cruise liners. Usually associated with late-night clubbing and the notorious gay-straight action on Paradise Beach, it's also the island of adorable whitewashed villages and shady cobbled lanes, cobalt-blue topped churches and windmills.
Cruise visitors booking a private guided tour of Mykonos can enjoy stress-free shore excursions as return times to the ship are guaranteed. If time is of the essence, limit your exploration to a 2.5-hour guided walking tour of entrancing Mykonos Town, taking in the folk museum, the white-painted houses clinging to the sea shore and the smart boutiques lining the cobbled lanes. Afterwards you'll find plenty of bars and cafés to relax in and watch the world go by.
For cruise passengers with four hours to spare, a chauffeur-driven tour of the island encompasses a beach or two, the gleaming icons in the Greek Orthodox Panagia Tourliani monastery, the cute little hump-backed Byzantine-Christian church of Panagia Paraportiani church and the winding cobbled alleyways of Little Venice in Mykonos Town.
Guided tours of the classical site on neighboring Delos are an adventure not to be missed and also take four hours. Revered in ancient times as the birthplace of Apollo and Artemis, Delos was second only to Delphi as the most sacred site in Greece. Some of the ruins here date from the eighth century BC, when Delos was the religious and secular center of the Cyclades and supported a thriving town of over 30,000 maritime traders.
The ancient site is littered with blocks of stone, fallen arches, fractured statues and perfectly preserved mosaics and it's badly labeled. Taking a private guide provides an informed commentary and helps to interpret what you are seeing as you walk around the crumbling harbor, market place, amphitheater, many temples and the remains of luxurious villas.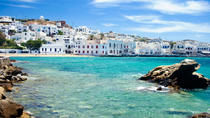 2 Reviews
Enjoy all Mykonos has to offer, from beautiful sandy beaches to archaeological wonders to the extravagant nightlife!
Location: Athens, Greece
Duration: 4 days (approx.)
4 Reviews
When your cruise docks in the Mykonos port, see the best of the town on a private shore excursion. Enjoy some of the best views of Mykonos and its surroundings ... Read more
Location: Mykonos, Greece
Duration: 4 hours (approx.)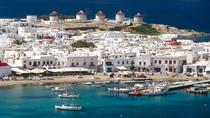 18 Reviews
Go island hopping in Greece on an unforgettable 5-day independent tour from Athens, taking in the islands of Syros, Mykonos and Santorini. In between ferry ... Read more
Location: Athens, Greece
Duration: 5 days (approx.)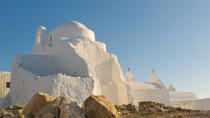 8 Reviews
Kick back and relax on an overnight trip to Mykonos, an idyllic Greek island with a reputation as the Aegean party capital! Relax by the beach, discover rustic ... Read more
Location: Athens, Greece
Duration: 2 Days / 1 Night
4 Reviews
While you're in port in Mykonos, head out on a private shore excursion to enjoy the best of the island, from traditional houses to historical wonders. Explore ... Read more
Location: Mykonos, Greece
Duration: 2 hours 30 minutes (approx.)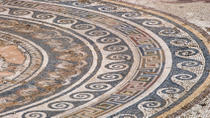 When you arrive in port in Mykonos, head out on a private shore excursion to the island of Delos, where you'll discover its legends and its beauty. Your ... Read more
Location: Mykonos, Greece
Duration: 4 hours (approx.)