Nairobi may be Kenya's center for industry and commerce, but it's also relatively close to a handful of the country's most incredible and diverse natural parks. The country's first, Nairobi National Park, is a mere 20-minute drive from the capital and boasts one of Kenya's most successful rhino sanctuaries. It's located just seven kilometers south of city limits, making it an ideal stop for those who don't want to venture far. Pack a camera to capture wildlife with the Nairobi skyline as an unexpected backdrop.
Nakuru National Park, one of the country's smallest but most diverse reserves, is located two hours outside Nairobi. Birders will love the sea of pink flamingos that flock to Soda Lake. Grab breakfast in the city's center before making the trip, since this small game park is best viewed during the afternoon or at sunset. And since it's located along one of the country's most scenic passes, be sure to leave extra time to enjoy the drive.
More ambitious early-risers who are tight on time can leave at sunup and make the four-hour journey to Masai Mara. Spend an afternoon driving through one of the nation's most diverse landscapes is worth the annoyance of returning well after dark.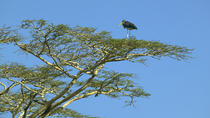 10 Reviews
Head to the leafy ex-colonial suburbs of Nairobi to visit two of the city's most famous attractions: the Africa Fund for Endangered Wildlife's Giraffe Centre ... Read more
Location: Nairobi, Kenya
Duration: 5 hours (approx.)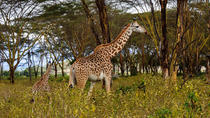 2 Reviews
Visit Hell's Gate National Park on a day trip from Nairobi! One of the few Kenyan nature reserves where walking is safe, the park is home to Africa's more ... Read more
Location: Nairobi, Kenya
Duration: 10 hours (approx.)