Founded in 1779 along the fertile banks of the Cumberland River, the city of Nashville quickly grew into a wealthy and sophisticated shipping city replete with classical architecture and surrounded by wealthy plantations. However, the Tennessee capital's replica Parthenon reigns not only over Athens, but one of the USA's most rural states, best known for moonshine and music (including country, rock 'n' roll, jazz, and bluegrass) and more. Think of it as American history with the world's best soundtrack.

Begin your exploration with a walking tour or trolley ride through Nashville's historic downtown. Here, among the classic Greek buildings and world-famous recording studios, you'll find out how Tennessee's favorite sons - including Daniel Boone, Davy Crockett, and President Andrew Jackson - made their fortunes.

President Jackson's well preserved former home, The Hermitage, is 5 miles (8 kilometers) from downtown. The scenic estate displays the tiny wooden cabin where he was born and elegant Antebellum mansion he later constructed. Viator's Historic Tennessee Tour also takes in Belle Meade, a huge Southern plantation, complete with slave quarters, once famed throughout the world for its fine horses.

After the Civil War, Nashville became a magnet for aspiring musicians, most famously country stars who came to play at the Grand Ole Opry. "Music Row," is a glittering neighborhood which includes the Opry's legendary Ryman Auditorium, and the modern Country Music Hall of Fame and Museum. If you're here to see "Music City," the Nashville Music Attraction Pass includes both of these pilgrimage-worthy sites.

Finish off with a toast of the world's finest whiskey, Jack Daniel's. Located in tiny Lynchburg, Tennessee, 75 miles (120 kilometers) southeast of Nashville, this tour isn't just an excuse for a tipple – and indeed, you can't have one, as the distillery is located in dry Moore County. You'll also get a glimpse of real, rural Tennessee, including an operating Tennessee walking horse farm. But be sure to buy yourself a bottle when you get back to Nashville.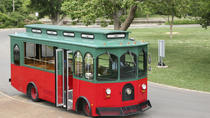 113 Reviews
For those wanting a quick overview of Nashville, you can't miss this 1-hour trolley tour. You'll pass by (and hear commentary about) the Ryman Auditorium, Fort ... Read more
Location: Nashville, Tennessee
Duration: 60 minutes (approx.)