Netherlands RECOMMENDATIONS See all
Off the Beaten Track in the Netherlands
By Viator, March 2014
No reviews, be the first!
Where should you visit next in the tightly packed compact country that is The Netherlands? You've walked the canals, visited the museums and seen the red lights of Amsterdam, visited markets in Edam and Gouda, admired pottery in Delft and bought bulbs in Keukenhof Gardens. Time to get off the beaten track.
1) Art Without the Crowds
Avoid the throngs in Amsterdam's Van Gogh Museum and head instead to the Kröller-Müller Museum in Hoge Veluwe National Park near Arnhem. Here, there are Van Gogh's aplenty and a smattering of Picasso's, as well as gardens scattered with sculpture.
-Sasha Heseltine

Editor's Note: This recommendation was taken from our Netherlands Things to Do blog. Visit the original post to continue reading the full post and to learn more about things to do in the Netherlands.

Photo courtesy of hans.griep via Flickr.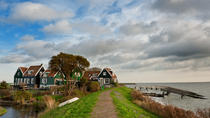 Venture into the Netherlands' beautiful countryside on this private day trip from Amsterdam to three authentic Dutch towns: Marken, Volendam and Edam. Stroll ... Read more
Location: Amsterdam, Netherlands
Duration: 8 hours (approx.)