103 Reviews
Address:

Dharmapuri, Agra 282001, India

Hours:

Sunrise to sunset (closed on Fridays)

Admission:

Rs 1000
Taj Mahal
Widely considered to be one of the most stunning buildings in the world and certainly one of India's most iconic landmarks, the Taj Mahal is a living testament to the grandiose, the romantic, and the beautiful. Lovingly built by Mughal Emperor Shah Jahan in memory of his favorite wife, the Taj is a must-see for anyone visiting the north of India.
Made from white marble, the Taj Mahal is decorated with carvings of flowers and inlays of precious stones arranged into intricate patterns. The building's impressive vaulted arches are adorned with quotations from the Quran, and the whole structure is topped with four small domes surrounding an iconic central one. Being raised on a marble platform, the Taj Mahal's only backdrop is the sky, while white minarets flank each of its corners, giving it a three-dimensional effect from each of its perfectly symmetrical sides. The photogenic structure also resides within a perfectly manicured Mughal garden featuring raised pathways that divide it into numerous flowerbeds. In the center is a raised reflecting pool positioned on a north-south axis so that when its fountains are not flowing, the Taj is perfectly reflected in its waters.
Organized guided tours from both Jaipur and New Delhi abound and often include other interesting sights and attractions around Agra, such as Agra Fort, Kachhpura Village, and Fatehpur Sikri. It should also be noted that from dusk until dawn, the sun creates an exquisite reflection upon the palace's white marble, drenching its surface in red, orange, pink, and golden hues. For this reason, sunrise and sunset tours of the Taj Mahal are particularly popular, and there's even the option to experience it at both these times of day as part of an 11-hour Agra day tour.
Insider's Tip: For something extra special, book a private Taj Mahal and Agra Fort tour, which includes a four-star dinner with a sky-deck view and an optional photographer to document your outing. This unique Taj Mahal experience is only available through Viator.
Practical Info
The Taj Mahal can be accessed via the west, south, and east gates. Tours usually enter through the east and west gates, while independent travelers tend to use the south gate. The Taj Mahal is closed every Friday to visitors, except for those attending prayers. Agra is easily accessible from New Delhi.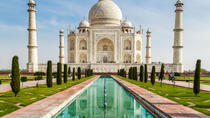 178 Reviews
Step back in time and discover the glory of the Mughal Empire of India on this private day trip to Agra from Delhi. See ancient architecture significant to ... Read more
Location: Delhi, India
Duration: 14 hours (approx.)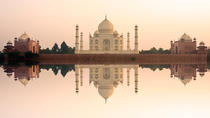 19 Reviews
Visit the world-famous Taj Mahal at sunrise on this full-day tour from New Delhi. Get picked up from the airport or your Delhi hotel and travel in a private ... Read more
Location: New Delhi, India
Duration: 14 hours (approx.)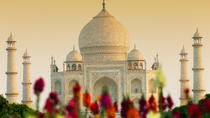 17 Reviews
Enjoy a high-class experience that combines a privately guided tour of the Taj Mahal and Agra Fort with dining at the 4-star Gateway Hotel — a Viator ... Read more
Location: Delhi, India
Duration: 10-12 hours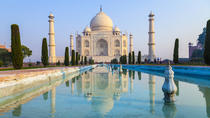 16 Reviews
Enjoy a private day-trip to Agra from Delhi and experience the beauty of the Mughal Empire of India. You can see famous ancient architecture such as the Taj ... Read more
Location: New Delhi, India
Duration: 14 hours (approx.)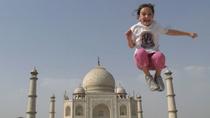 55 Reviews
Marvel at the world's greatest monument to love, the Taj Mahal and magnificent Agra Fort on this unforgettable private tour. Accompanied by your own private ... Read more
Location: Delhi, India
Duration: 12 hours (approx.)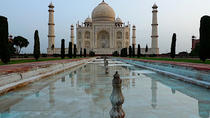 4 Reviews
Step back in time and discover the glory of Indian's Mughal Empire on this private day tour to Agra from Delhi. Visit India's world famous Taj Mahal, Agra Fort ... Read more
Location: New Delhi, India
Duration: 18 hours (approx.)
1 Review
Book this hassle-free 20-hour trip that includes a round-trip flight from Mumbai to Delhi and a transfer to Agra to see the Taj Mahal, one of the seven wonders ... Read more
Location: Mumbai, India
Duration: 20 hours (approx.)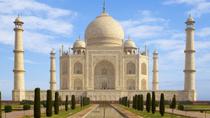 6 Reviews
This private Taj Mahal day tour gives you the opportunity to make a pilgrimage to the Taj Mahal, India's most famous architectural wonder. This guided tour ... Read more
Location: New Delhi, India
Duration: 14 hours (approx.)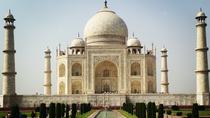 This tour offers guests a deeper understanding of local life in addition to visiting the must-see Agra sights: the Taj Mahal and Agra Fort. The tour stops for ... Read more
Location: New Delhi, India
Duration: 15 hours 30 minutes (approx.)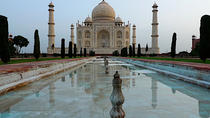 Experience the world famous Taj Mahal and UNESCO World Heritage Site, Agra Fort, on this private 11-hour tour. An English-speaking guide will lead you along ... Read more
Location: Agra, India
Duration: 11 hours (approx.)