Much of the world's tea comes from India, and as you walk the streets of New Delhi, you'll quickly see why tea has become the national drink of choice. The distinct flavors of Indian tea, called chai, should not be missed during your travels.
History of Tea in India
Tea plants grew wild in India long before the British East India Company popularized the drink. In 1833, after employees discovered native tea plants growing in Bengal and Assam, the East India Company began commercial production in India in an attempt to break China's monopoly on tea. By 1885, India was exporting more than 35,000 tons of tea each year. Today, the country remains one of the world's largest producers, despite the fact that 70 percent of the tea produced is consumed within India.
Drinking Tea in New Delhi
One of the best ways to enjoy India's tea is by visiting one of New Delhi's many tea rooms. The Tea Lounge at the Taj Palace offers a British-style high tea experience with the flavors of domestically-grown Assam or Darjeeling leaves. To enjoy your chai like the locals do, head to the fashionable Cha Bar, located within the Oxford Bookstore on Connaught Place. These are just two of the many chai houses springing up all over the city, a visible indication of the revitalization of India's long and rich tea heritage.
Don't think you must sit in a chai house or tea room to enjoy New Delhi's tea; you'll find it throughout the city, particularly in the narrow
alleys of Old Delhi
on nearly every corner. Chai wallas boil tea leaves with water, milk, sugar and spices in massive vats, serving up their concoctions in clay or paper cups for a few cents a piece. Since the liquids are all boiled, it's safe to drink chai from pretty much any vendor in the city.
Learn all about Indian teas on an
Indian Food Tour of New Delhi
.
Contributed by Lydia Schrandt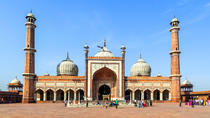 36 Reviews
Discover the diversity and color of Delhi's action-packed streets, learn about India's struggle for independence and visit Hindu temples on this small group ... Read more
Location: Delhi, India
Duration: 3 hours (approx.)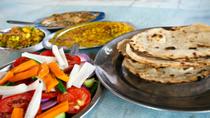 4 Reviews
Enjoy a private and intimate experience as a local family welcomes you into their home for a cooking class. With your expert chef, interact with the family ... Read more
Location: Delhi, India
Duration: 3 hours (approx.)
Experience high tea at the Imperial Hotel, a 3-hour dining experience in traditional English style that includes pickup and drop-off at your Delhi hotel. ... Read more
Location: New Delhi, India
Duration: 3 hours (approx.)