New Orleans RECOMMENDATIONS See all
Creole and Cajun Eating
By Viator, November 2016
No reviews, be the first!
Headed to New Orleans? Get ready. From crawfish etouffee to jambalaya to filet gumbo, New Orleans has got the best and most distinctive food in the whole U.S. It doesn't matter if you're not familiar with Creole or Cajun cooking, either. Part of the South's charm is its distinct ability to make guests feel like family, and there's no better expression of that hospitality than in good southern cooking. Here's a quick rundown of the best and most distinctive southern food available.
New Orleans has a rich cultural history beyond the boundaries of most American cities. New Orleans is a hearty mélange of people which has made the city a gumbo of good food, if you'll pardon the expression. Creole and Cajun cuisine blend French, Spanish, Portuguese, Italian, Native American and African influences and the two cooking traditions are nigh impossible to differentiate save for the fact that Creole cuisine is a bit more in the Old World European style – a fact that is owed to the Creole forefathers, the Arcadians. Either way you slice it, these dishes make for some of the best eating you'll have during your time in New Orleans.
So, what to eat, where to go? Well, on any trip to the Big Easy, you're likely to run into numerous restaurants all boasting the best Creole or Cajun eats in the town – and there will probably be many who agree with them. Thing is, random acts of good food are found all over the city, and this makes for one of the singular pleasures of being in New Orleans – the near inescapability of good eating. Most dishes are made with a healthy serving of spice, so be forewarned if you're not a spicy food lover. That being said, the food here may make you change your ways. If you're looking for the best of the best, consider these good points to look out for:
Crawfish Monica – a buttery pasta and crawfish dish made with spice – Jazz Fest favorite
Cajun Crawfish and Shrimp Etouffee – this spicy seafood dish is based on a tomato roux with fresh vegetables.
Seafood Gumbo – a hearty mix of flavorful local seafood made into a thick soup – served with and without okra.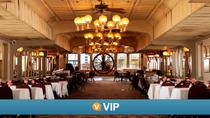 157 Reviews
Indulge in a luxurious evening in New Orleans on the Steamboat Natchez -- authentic steampowered paddle-wheel steamboat still operating today on the ... Read more
Location: New Orleans, Louisiana
Duration: 2 hours (approx.)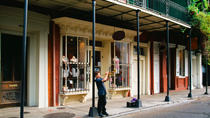 209 Reviews
Find out what all the fuss is about on this half-day tour of some of the best food in New Orleans' famous French Quarter. Your knowledgeable, passionate guide ... Read more
Location: New Orleans, Louisiana
Duration: 3 hours (approx.)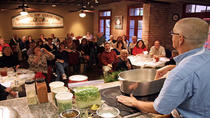 409 Reviews
Take an entertaining and informative cooking class at the New Orleans School of Cooking! Located in a renovated molasses warehouse built in the early 1800s, ... Read more
Location: New Orleans, Louisiana
Duration: 2 or 2.5 hours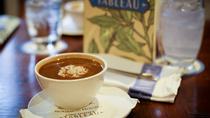 105 Reviews
This New Orleans food tour has every culinary taste covered. With a history-savvy guide leading the way, you'll walk from classic Creole restaurants and ... Read more
Location: New Orleans, Louisiana
Duration: 3 hours (approx.)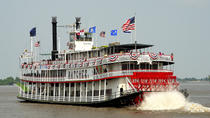 190 Reviews
Soak up the beauty of New Orleans from the decks of the Steamboat Natchez! On this Sunday brunch cruise, travel along the Mississippi River while enjoying live ... Read more
Location: New Orleans, Louisiana
Duration: 2 hours (approx.)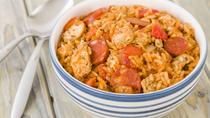 18 Reviews
Explore the rich culinary history of New Orleans on a tour that combines a cooking class with a French Quarter cocktail tour. First, learn about the basics of ... Read more
Location: New Orleans, Louisiana
Duration: 4 hours (approx.)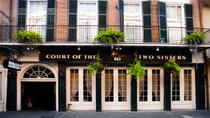 129 Reviews
The Court of Two Sisters' Buffet Brunch boasts is a sumptuous display of hot and cold dishes. They use only the freshest ingredients so the buffet's ... Read more
Location: New Orleans, Louisiana
Duration: Flexible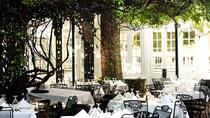 37 Reviews
When you come to New Orleans, you simply can't go past a sumptuous Creole dinner at the Court of Two Sisters restaurant. Nestled in the historic French ... Read more
Location: New Orleans, Louisiana
Duration: Flexible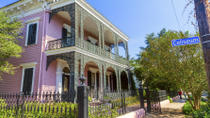 1 Review
Eat your way around New Orleans' culinary hotspots on a 4-hour food tour, led by a food-loving local guide! Showcasing the much-loved eateries around St ... Read more
Location: New Orleans, Louisiana
Duration: 4 hours (approx.)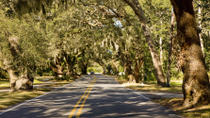 1 Review
Discover New Orleans' renowned restaurants and backstreet gems on a 3-hour food tour around Oak Street in Carrollton! With a local guide, explore the eclectic ... Read more
Location: New Orleans, Louisiana
Duration: 3 hours (approx.)