New Orleans is known as one of America's most haunted cities, owing to its above-ground cemeteries (or "cities of the dead") and a heritage rich in voodoo, vampires, and sordid tales. It's a prime place to fraternize with the paranormal. Here are your options for haunted history and cemetery tours.
Ghost Tours
From the Garden District to the French Quarter, many of New Orleans' most famous residents are of the spirit sort. Hear the histories of the city's ghosts and famous hauntings on a guided after-dark tour through the city's historic neighborhoods. New Orleans ghost tours stop at sites with rumored ghostly activity, including historic haunted houses such as the LaLaurie Mansion and Lafayette Cemetery, the oldest cemetery in the city.
Voodoo Tours
New Orleans received an influx of Haitian émigrés during the Haitian Revolution, which ended in 1804, and Haitian culture, including voodoo religion, came along with them. Dig deeper into the voodoo culture of the Big Easy on a city tour with a local guide. Wander the maze of mausoleums at the supposedly haunted St. Louis Cemetery No. 1 to pay your respects at the resting place of Marie Laveau, NOLA's most famous voodoo queen, and stop at a voodoo shop selling specialty items.
Vampire Tours
It's no coincidence that Anne Rice set her famous novel series, The Vampire Chronicles, here—vampire stories practically rise up from the above-ground cemeteries and cracked courtyards of New Orleans. Discover all of NOLA's most legendary vampire haunts during an evening walking tour through the lamplit French Quarter to visit Interview with a Vampire filming locations and the St. Germain House (the former home of a rumored New Orleans vampire), while listening to spooky stories from local public archives and police reports.
431 Reviews
Immerse yourself in New Orleans' haunted side on this spooky nighttime walking tour. As you explore haunted sites in the French Quarter, such as the LaLaurie ... Read more
Location: New Orleans, Louisiana
Duration: 2 hours (approx.)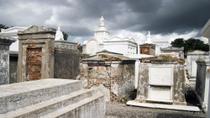 404 Reviews
Follow the ghosts of the numerous characters of New Orleans' mysterious past! Tour one of the city's most haunted cemeteries, St Louis Cemetery No. 1 and visit ... Read more
Location: New Orleans, Louisiana
Duration: 2 hours (approx.)
250 Reviews
Learn about the supernatural side of New Orleans, including the city's most famous voodoo queen, on this walking tour that takes you to the French Quarter and ... Read more
Location: New Orleans, Louisiana
Duration: 2 hours (approx.)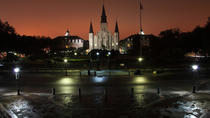 141 Reviews
Take a romp through the haunted French Quarter on this famous New Orleans ghost tour. During your 2-hour evening walking tour, explore the grim and ghastly ... Read more
Location: New Orleans, Louisiana
Duration: 2 hours (approx.)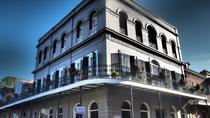 17 Reviews
Master Storytellers guide groups through darkened streets for a historically accurate fun-filled tour full of New Orleans ghost stories and tales of Vampires.
Location: New Orleans, Louisiana
Duration: 2 hours (approx.)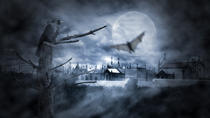 156 Reviews
Visit the dark and mysterious world of the undead on this popular New Orleans vampire tour. Walk with your theatrical guide through the French Quarter and hear ... Read more
Location: New Orleans, Louisiana
Duration: 2 hours (approx.)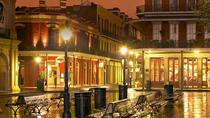 7 Reviews
Enjoy a haunted excursion that covers ghosts, vampires, New Orleans history, culture and architecture, as well as its cemeteries with a real EMF Meter ... Read more
Location: New Orleans, Louisiana
Duration: 1 to 2 hrs
27 Reviews
See haunted sites in the French Quarter on this 2-hour ghost tour of New Orleans. Hear ghostly legends and lore from your entertaining guide, who shares eerie ... Read more
Location: New Orleans, Louisiana
Duration: 2 hours (approx.)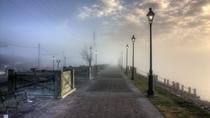 24 Reviews
Discover the infamous haunts of the New Orleans Garden District on this 2-hour ghost tour, including Lafayette Cemetery. Listen as your theatrical guide shares ... Read more
Location: New Orleans, Louisiana
Duration: 2 hours (approx.)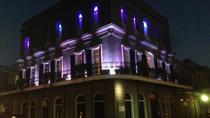 2 Reviews
Hear the truth, rumors, and legends that make New Orleans a destination for history buffs and ghost hunters alike. Haunting tales from the Andrew ... Read more
Location: New Orleans, Louisiana
Duration: 2 hours (approx.)