New Orleans' Carnival is justly famous around the world, but there's more to Mardi Gras than its rowdy reputation. Debutante balls, elaborate float-making, and Christian traditions set the ball rolling for months of festive atmosphere leading up to Fat Tuesday—the day before Ash Wednesday and the beginning of Lent. You'll see the iconic French Quarter extravagantly decorated in purple, green, and gold, and find celebratory King Cake on most every bakery shelf. Of course, you'll find your fair share of parties, as well.
Spirited locals dress up and parade down city streets every day for the two weeks preceding Mardi Gras. While costumes, floats, and festive bead-throwing mark any parade visit as a Mardi Gras highlight, we've compiled a few tips on how to best experience Fat Tuesday in the Big Easy, below.
Weekend Before Fat Tuesday
The best parades start on the Thursday night before Fat Tuesday. While tourists tend to stick to Bourbon Street, locally-organized parades proceed along St. Charles Avenue and Canal Street, on the upriver side of the French Quarter. The parades are led by organizations called Krewes, each with their own history and following. Don't miss the all-female Krewe of the Muses parade on Thursday night, the back-to-back Hermes and D'État parades on Saturday night, and the celebrity-led Bacchus parade on Sunday.
While the population of the city doubles the weekend before Mardi Gras, you can guarantee yourself a spot above the crowds with exclusive Viator access to premium viewing stands, available during your parade of choice.
Lundi Gras
Otherwise known as Fat Monday, Lundi Gras is the penultimate series of parades, marked by the oldest and most influential Krewe leaders arriving to Canal Street by boat. With the upgraded Viator VIP Mardi Gras package, you'll find yourself in a costume and on a float, throwing out beads at the musical Krewe of Orpheus parade—an unforgettable New Orleans experience.
Mardi Gras
Check out the Zulu and Rex parades, or join in on the fun yourself. With the four-day Viator VIP Mardi Gras experience, you'll parade through the French Quarter on the most famous day of the season, and reward your bead-throwing abilities with a traditional New Orleans lunch on a private Bourbon Street balcony.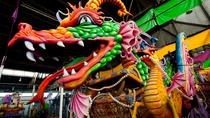 65 Reviews
Get a unique behind-the-scenes look at the makings of Mardi Gras with this all-access tour of Mardi Gras World in New Orleans. Perfect for the whole family, ... Read more
Location: New Orleans, Louisiana
Duration: 60 minutes (approx.)