Revel in the history and culture of the Cajun people while on the lookout for the distinctive wildlife found in the swamps and bayous of southern Louisiana. The region is replete with so much in the way of the beautiful and the bizarre that little more than a guided tour is required to make for an exciting and memorable experience. The amount of living history—whether it be Cajun or the profusion of Antebellum plantations—is truly something to behold.
Road Trip
The transition from urban New Orleans to the mysterious realm of cypress swamps, vast sugarcane fields, and historic bridges spanning the mighty Mississippi River are best experienced by car. Explore the region on your own or soak up some local history with the aid of one of the many guided tours readily available in New Orleans' French Quarter.

All Aboard
Learn the secrets of local alligator hunters, fur trappers, and fishermen aboard a guided boat tour of the swamps and backwater bayous of Louisiana. Though many travelers take pleasure in blazing their own trail, these gator-infested waters are not for the uninitiated. Take advantage of local knowledge of reptile habitats, healing plants, and exotic birds while keeping your eyes peeled for alligators, snakes, egrets, raccoons, and nutria.
Tour a Plantation
Though often evocative of a painful period in US history, a tour of one of the region's countless antebellum-era plantations is not an experience to be missed for history buffs and casual vacationers alike. Take in the famed regional hospitality while witnessing the opulence of the Old South firsthand.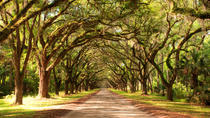 34 Reviews
Enjoy the flexibility of combining the Swamp and Bayou Tour and the Oak Alley Plantation Tour and SAVE! Travel across the Mississippi by coach for a boat trip ... Read more
Location: New Orleans, Louisiana
Duration: 2 days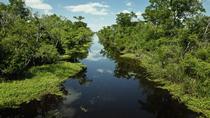 259 Reviews
Take a break from the hustle-bustle of New Orleans and escape to nature on this exhilarating, family-friendly airboat ride! Spot alligators, snakes, turtles, ... Read more
Location: New Orleans, Louisiana
Duration: 1 hr 45 mins to 2 hrs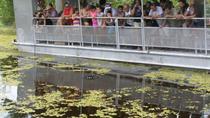 415 Reviews
Nowhere is Louisiana's wildlife more abundant than in the swamps and bayous of New Orleans. After crossing the Mississippi River, take a boat ride through ... Read more
Location: New Orleans, Louisiana
Duration: 4 hours (approx.)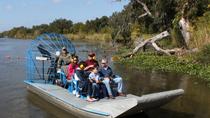 303 Reviews
An airboat tour through Louisiana's famous swamps is the perfect way to experience the untamed side of New Orleans. Aboard a small airboat, explore marshes and ... Read more
Location: New Orleans, Louisiana
Duration: 4 hours (approx.)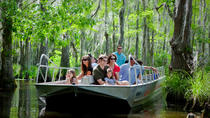 78 Reviews
Take a short drive from New Orleans to visit Honey Island Swamp, a wildlife preserve that is one of the last protected wetlands in Louisiana, during a 2-hour ... Read more
Location: New Orleans, Louisiana
Duration: 2 hours (approx.)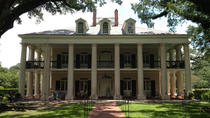 601 Reviews
A grand mélange presentation of Cajun and Creole cultures starting with a boat tour of the cypress swamps. Enjoy a traditional lunch at one of the oldest ... Read more
Location: New Orleans, Louisiana
Duration: 9 hours (approx.)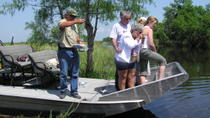 64 Reviews
Get ready for an exhilarating two-hour airboat ride deep into secluded bayous in Cajun Country. You will see all sorts of wildlife on your journey - ... Read more
Location: New Orleans
Duration: 5 hours 30 minutes (approx.)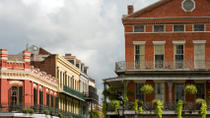 40 Reviews
Discover New Orleans' heritage and the beauty of its period homes during this architectural tour. Ride along the city's stately streets, passing jewels of ... Read more
Location: New Orleans, Louisiana
Duration: 4 hours (approx.)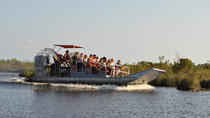 48 Reviews
Take a thrilling airboat ride through the wetlands near New Orleans and plenty of alligators on this active, family-friendly tour. Travel over bayous and open ... Read more
Location: New Orleans, Louisiana
Duration: 4 hours (approx.)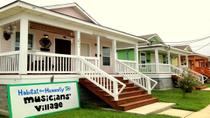 58 Reviews
The tenacious city of New Orleans showcases her rebuilding efforts and her Southern charm on this combination city tour that includes both the city's old ... Read more
Location: New Orleans, Louisiana
Duration: 4 hours (approx.)